Unistrut Midwest specializes in providing pre-fabrication services on any project, but Data Center construction has quickly become the largest consumer of pre-fabricated Unistrut supports. Data Centers are an ideal project type to utilize pre-fabrication due to the highly repeatable components throughout the data halls. Unistrut Midwest has been working in the data center space for many years, and we are happy to discuss any pre-fabrication project or ideas you might have. Contact us today to discuss your project.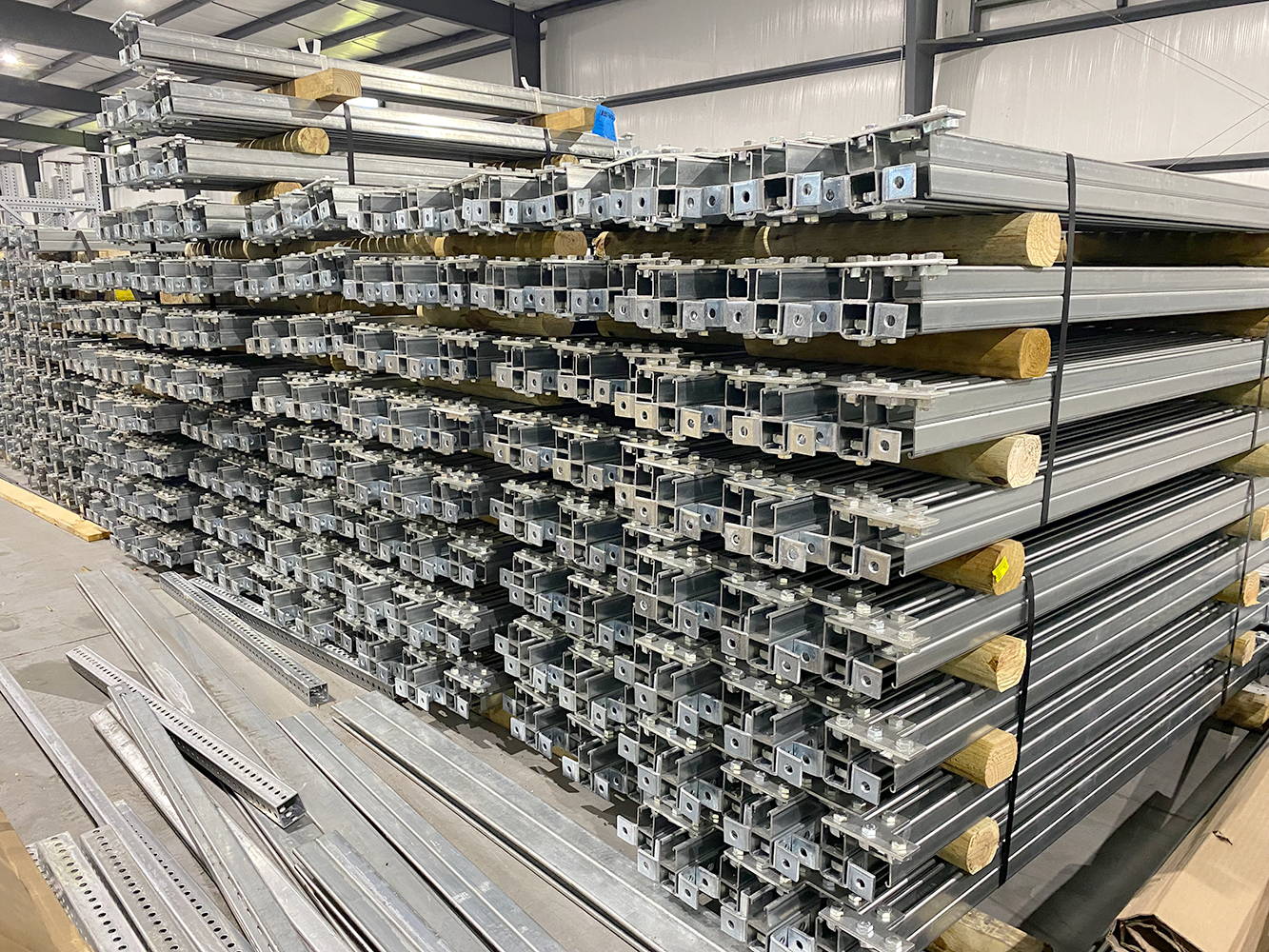 Pre-Fabrication of Unistrut Data Center Components
Unistrut Midwest offers many pre-fabrication solutions in order to reduce on-site man hours, project costs, and waste. Any activity such as cutting channel to size, pre-assembling fittings, or building repeatable components that can be accomplished in our warehouse at ergonomically adjustable work stations is done before arriving on site. Pre-fabrication reduces on-site work and eliminates much of the waste associated with constructing data center solutions with stock materials on site.
Unistrut Midwest Data Center Pre-Fabrication and Installation Services
Unistrut Ceiling Grid Main Rail Pre-Fabrication for Data Centers
The Unistrut Ceiling Grid Main Rails would be the Unistrut member that connects to the building structure. Typically threaded rod or Unistrut drops will connect only to Unistrut channel in the grid in one direction. Unistrut will pre-fabricate these main rails with fittings to receive all thread drops, cross connections for the filler rails, or splices. The relatively simple act of pre-loading main rails can save hundreds of man hours in the field.
Unistrut Trapeze Pre-Fabrication for Data Centers
Electrical conduit and cable trays use standard Unistrut Trapeze all throughout data centers. Typically a trapeze would be two Rod Drops and a few layers of Unistrut Channel forming a U-shaped support for the conduit or cable tray. These supports will typically occur every six to ten feet along a row of servers and be identical within a row. Unistrut can pre-cut and assemble the Unistrut trapezes off-site to reduce waste and man hours by offering a finished product instead of raw materials.
Unistrut Hot Aisle Containment Support Pre-Fabrication for Data Centers
Unistrut Metal Framing can be used to create a frame for hot aisle containment panels. The drops made from Unistrut will allow you to support both the hot aisle containment panels and electrical components in the cold aisle with a single support. Since most hot aisles will utilize the same configuration, Unistrut can create repeatable drops that will be cut to size, pre-loaded, and pre-assembled. The hot aisle containment drops arrive bundled by type and reduce on-site cutting and assembly. The pre-fabrication of hot aisle containment supports will eliminate field cutting and reduce man hours.
Modular Pipe Rack Pre-Fabrication for Data Centers
Data Centers often include service corridors with standardized runs of chilled water lines. These long runs of piping can utilize off site pre-fabrication in modules to reduce on site construction time and man hours. Utilizing Sikla SiFramo and Unistrut Channel, Unistrut Midwest is able to fabricate steel support structures that are capable of supporting the piping and can withstand transport from an off site fabrication warehouse. Pre-Fabrication of pipe racks off site is a great way to reduce construction times by fabricating runs of piping on the ground and lifting full assemblies in place.
Raised Access Floor Installation
Unistrut Midwest is an authorized Tate Raised Access Floor Installation company and our crews have installed over 1,000,000 square feet of raised access flooring. We are UFAD Certified in the proper construction techniques associated with maintaining plenum integrity for successful underfloor air installations.
Other Pre-Fabrication Services in Data Centers
Pre-Cutting Unistrut to Size
Pre-Loading Unistrut Fittings with channel nuts and bolts
MEP Rack Assembly
Pre-Fabricated Pipe Supports
Rooftop Walkways
Air Handling Unit Access Platforms or Stairs
Data Center Installation and Pre-Fabrication Photo Gallery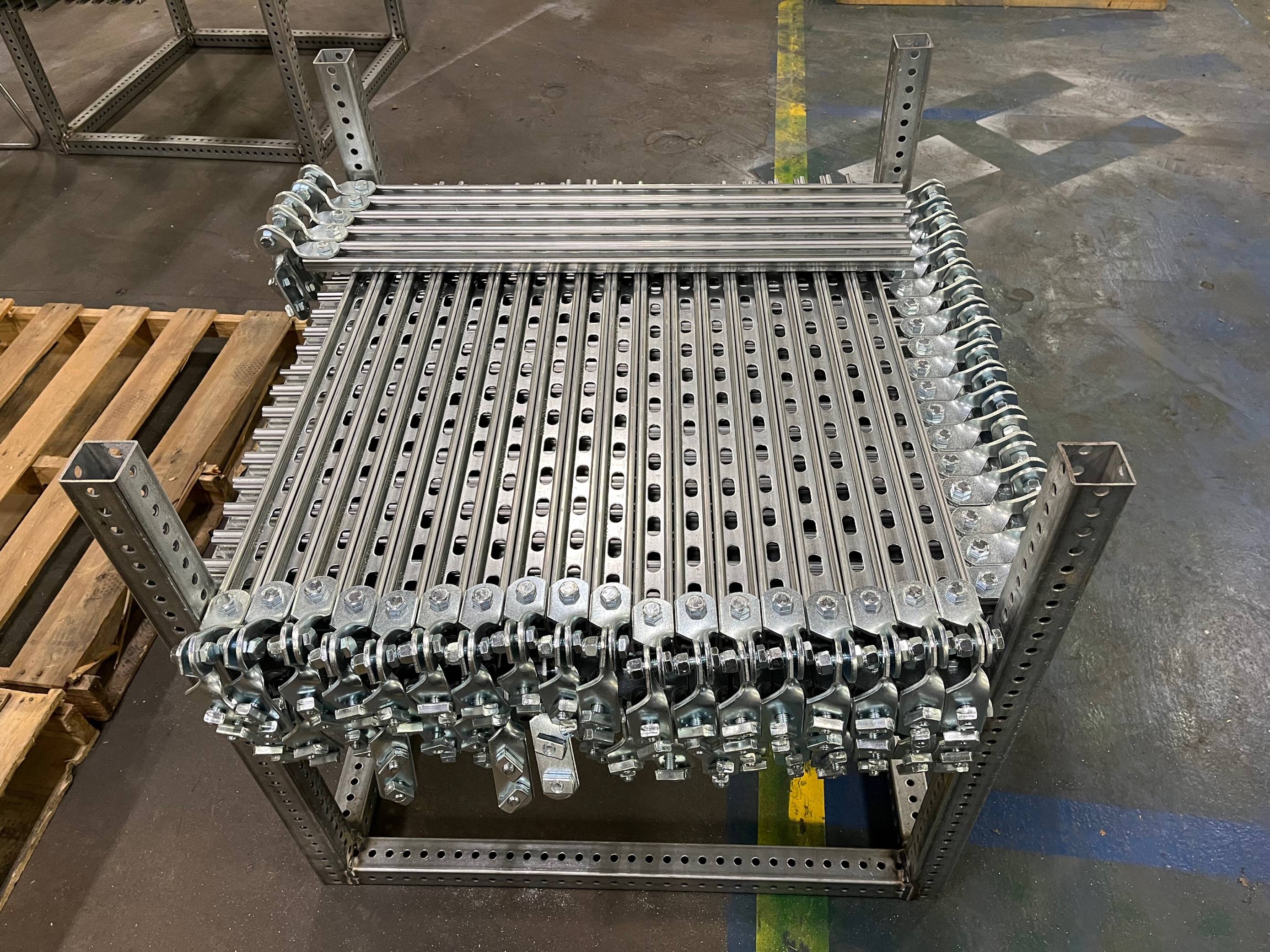 Prefabricated MEP corridor supports ready to be delivered and installed at the job site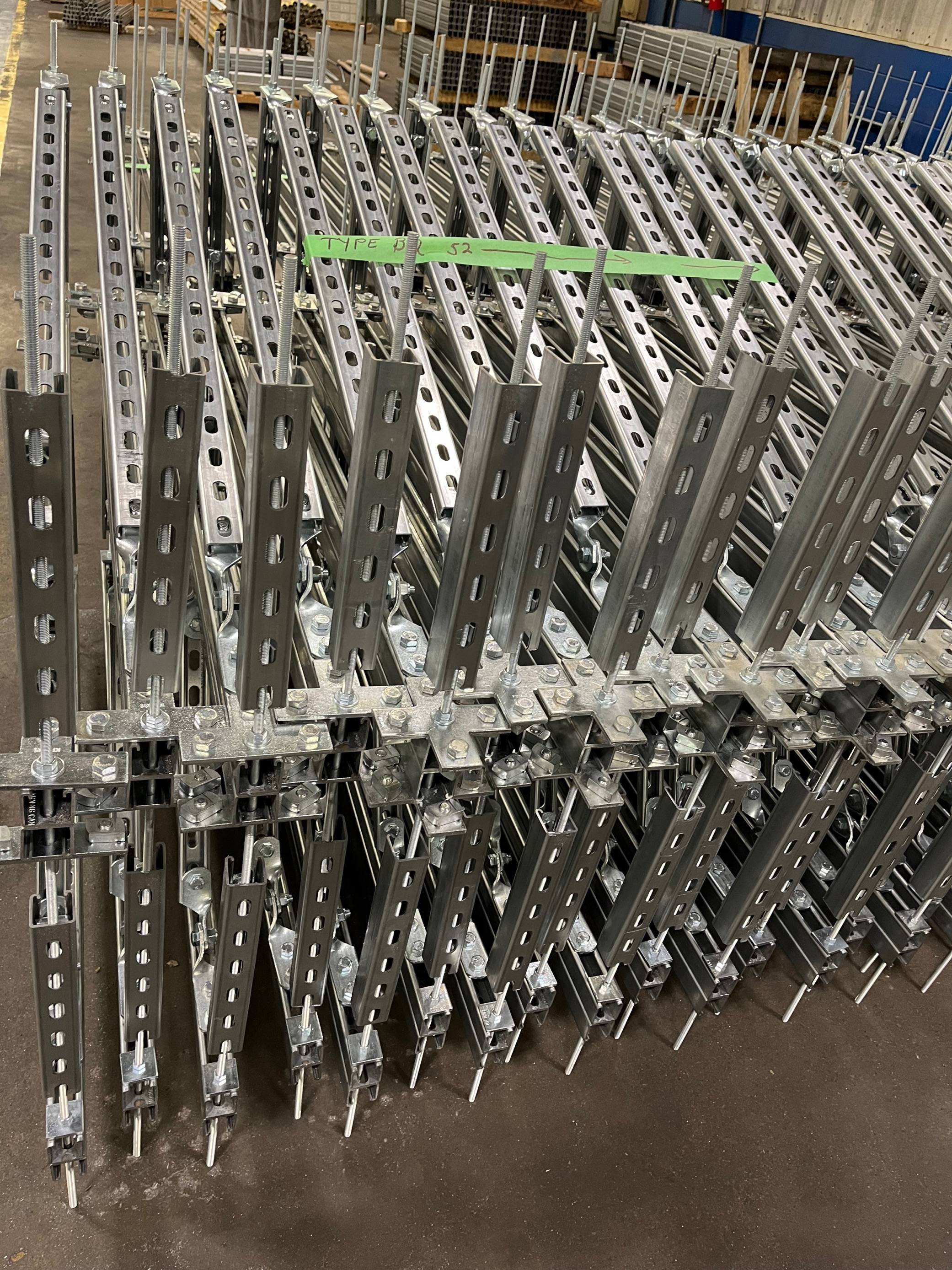 MEP corridor supports pre-loaded with Unistrut fittings, channel nuts, and bolts, ready to be installed quickly and efficiently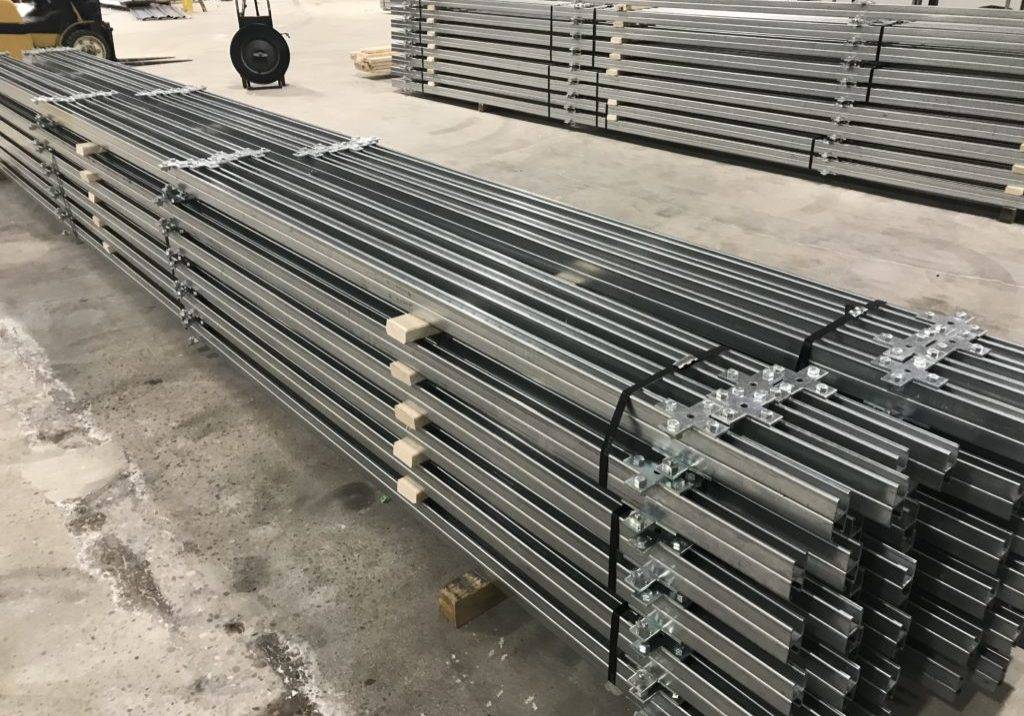 Data Center Unistrut ceiling grid supports cut to size and pre-loaded with fittings and hardware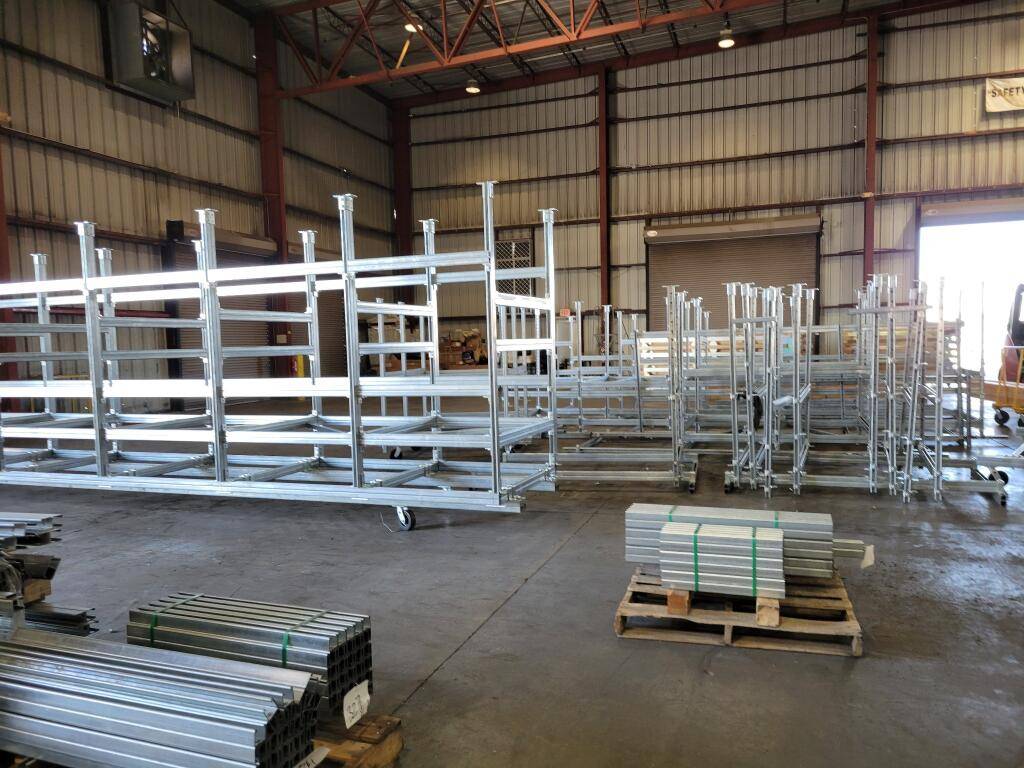 Prefabricated MEP corridor racks ready to be delivered and installed, saving days of on-site man hours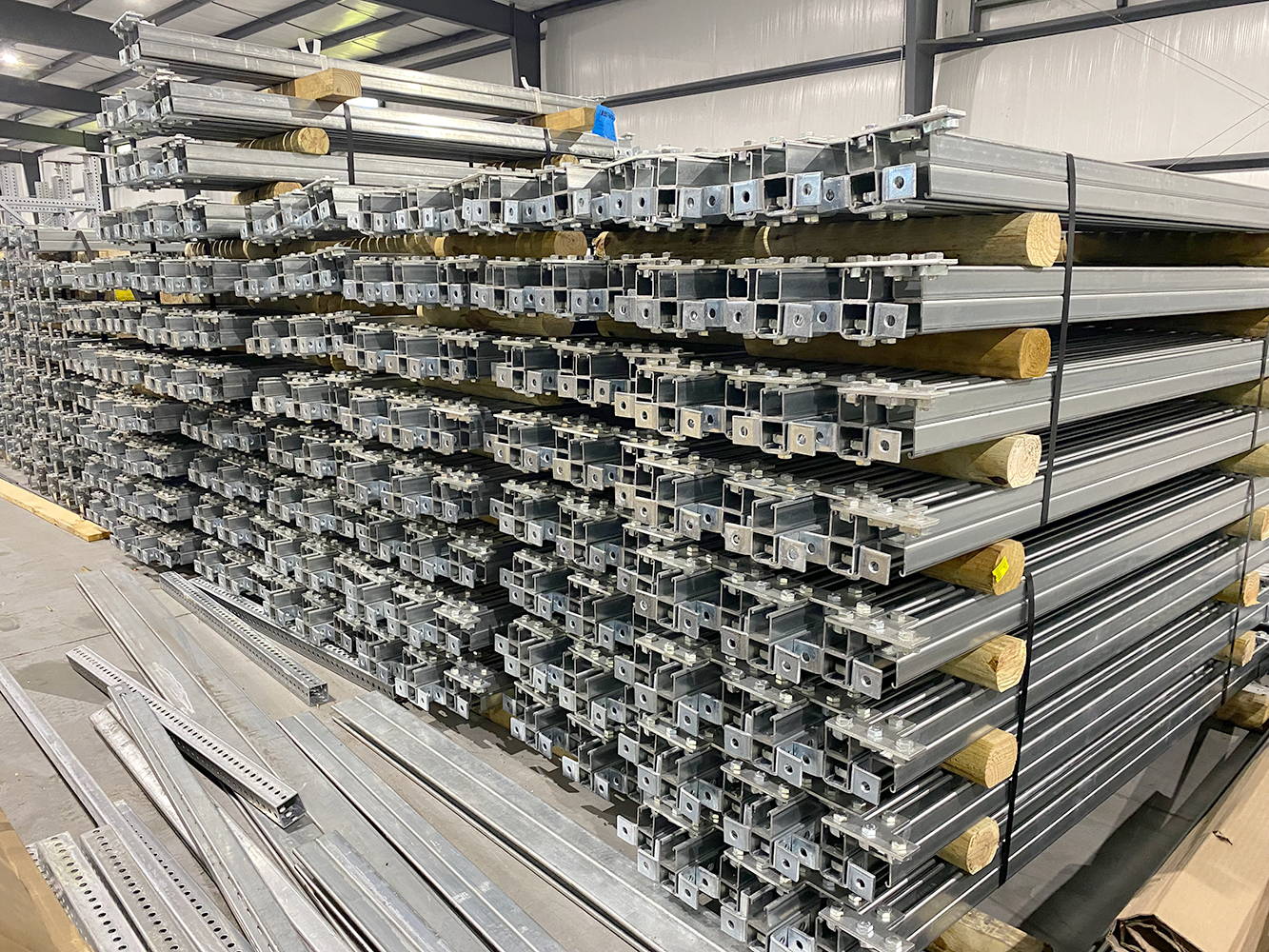 Data Center ceiling grid components cut to size and preloaded with fittings and hardware, ready for shipment and delivery
Unistrut Midwest can review your project to see if pre-fabrication makes sense to help lower costs on the project.