Rely on Unistrut catwalks and catwalk systems to deposit, transport, or remove your goods, inventory, and machinery from areas that are inaccessible from floor level. Unistrut industrial catwalk systems, designed and installed by Unistrut Midwest, are unique from typical structural steel walkways since they are designed with all bolted connections that eliminate the need for welding on almost all projects. The bolted connections allow the system to be modified, expanded, or altered to adapt to future requirements.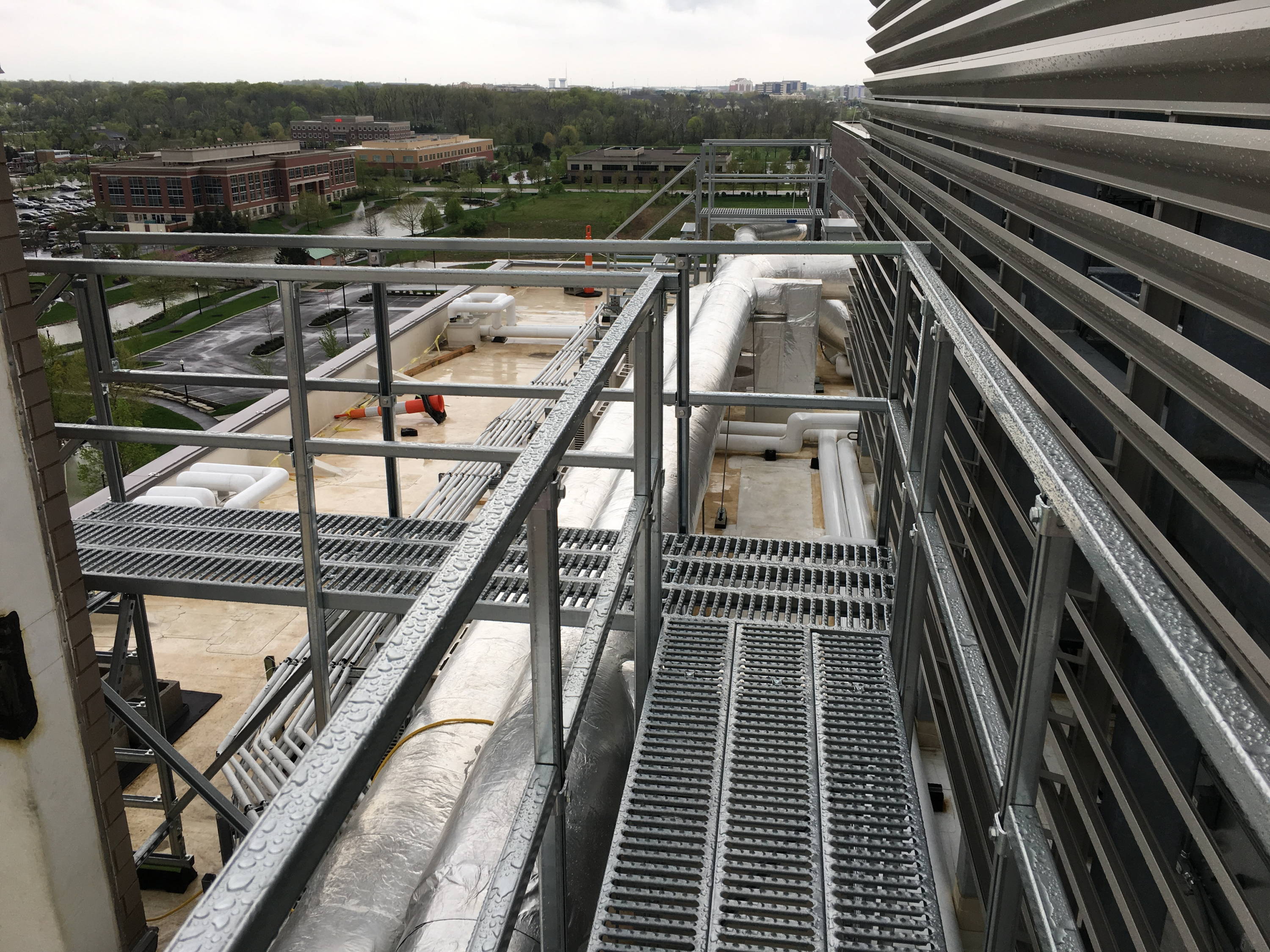 Catwalks are a cost-effective way to optimize space and promote safety by eliminating the use of ladders and stools while still accessing vertical space. Our design and engineering teams utilize Unistrut metal framing and United Interlock Grating to build modular catwalk systems that are strong, lightweight, economical, and versatile. Additionally, our OSHA catwalks are built to comply to standards that promote the safety of all users.
Advantages of Choosing Unistrut as Your Industrial Catwalk Manufacturer
The modular nature of Unistrut components allows our catwalks to be prefabricated in our warehouse to save time and on-site labor. Prefabrication also lets us safely construct the catwalk components on the ground and minimizes the amount of overhead work needed on a project, greatly reducing the hazards associated with working overhead.
Lightweight, High-Performance
Unistrut uses lightweight pre-galvanized or aluminum plank grating and Unistrut metal framing supports which reduces the overall dead load on the primary steel when compared to conventional structural steel systems.
Unistrut plank grating features a surface that provides 360 degrees of slip resistance on all Unistrut catwalks.
Unistrut industrial catwalks use only bolted connections. From the beam clamps to the grating clips, all of the Unistrut catwalk connections use bolted hardware in lieu of welding. Many walkways are installed in existing facilities where welding is not feasible or allowed, which makes the Unistrut system ideal for these applications.
Unistrut systems are designed with the latest OSHA walkway guidelines as our minimum standard. Unistrut includes a handrail and kick plate on all of our catwalk systems. Discover how our OSHA catwalks can promote safety and defer injuries in your facility.
Catwalk Project Photo Gallery
View some of Unistrut Midwest's favorite catwalk projects in the photo gallery below. Contact us for information on any of the projects in the galleries!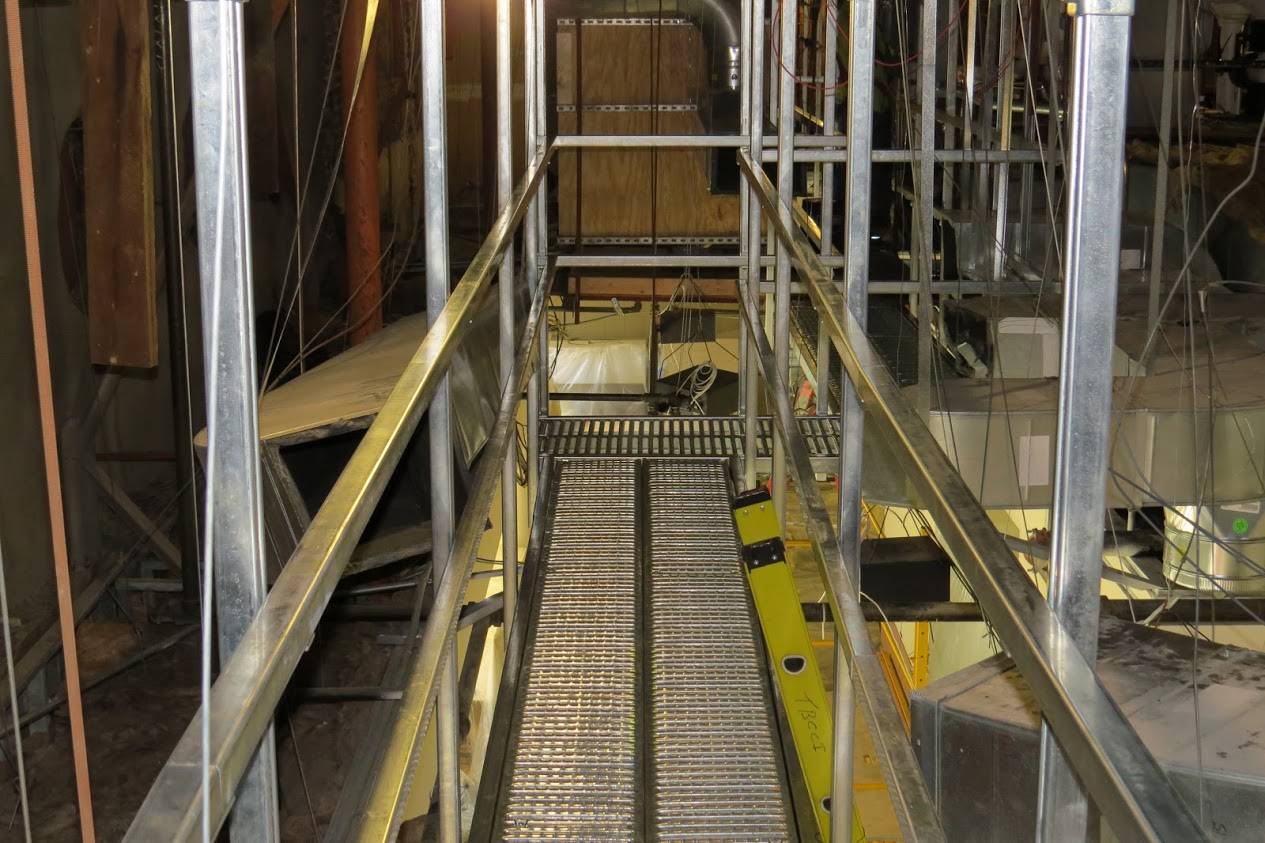 Maintenance Catwalk in a 100 Year Old Historic Building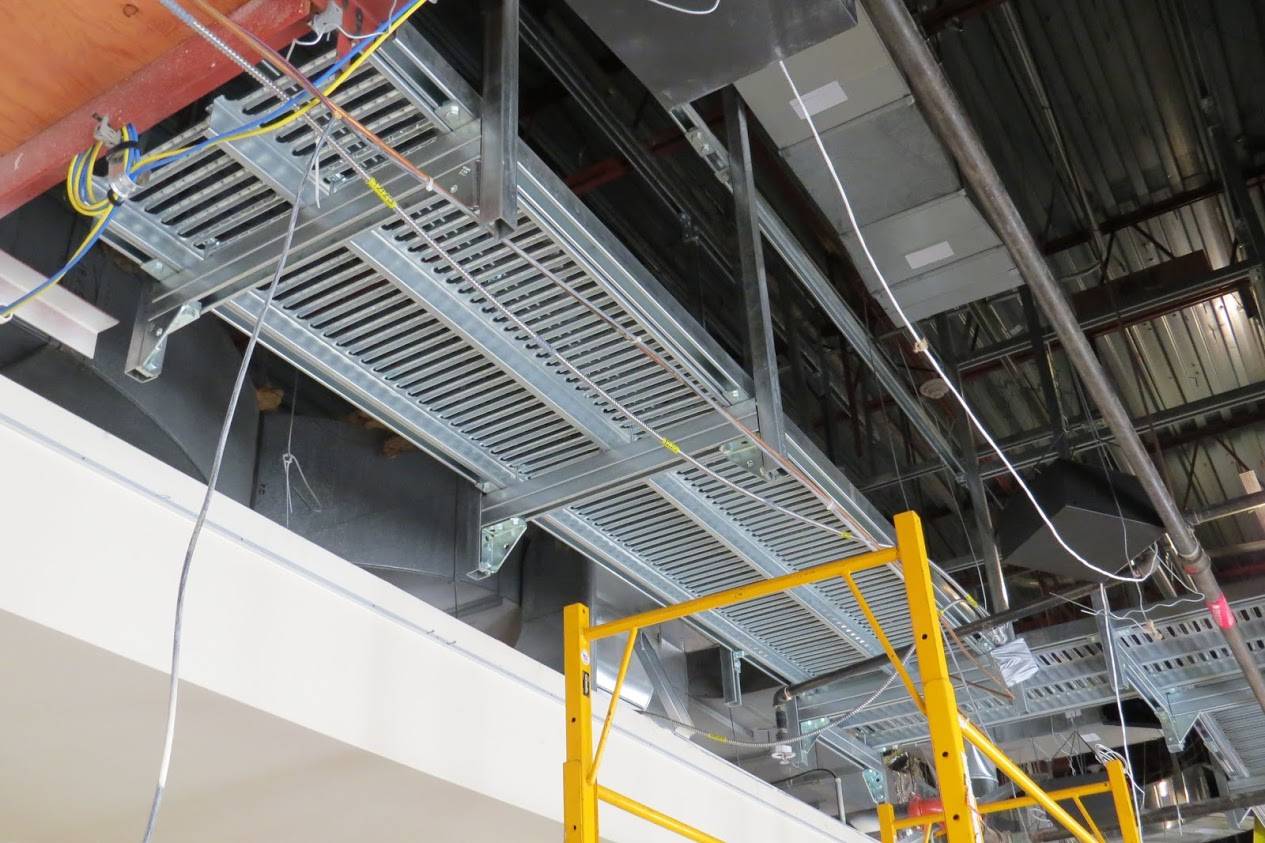 Bottom view of a Unistrut Maintenance Access Walkway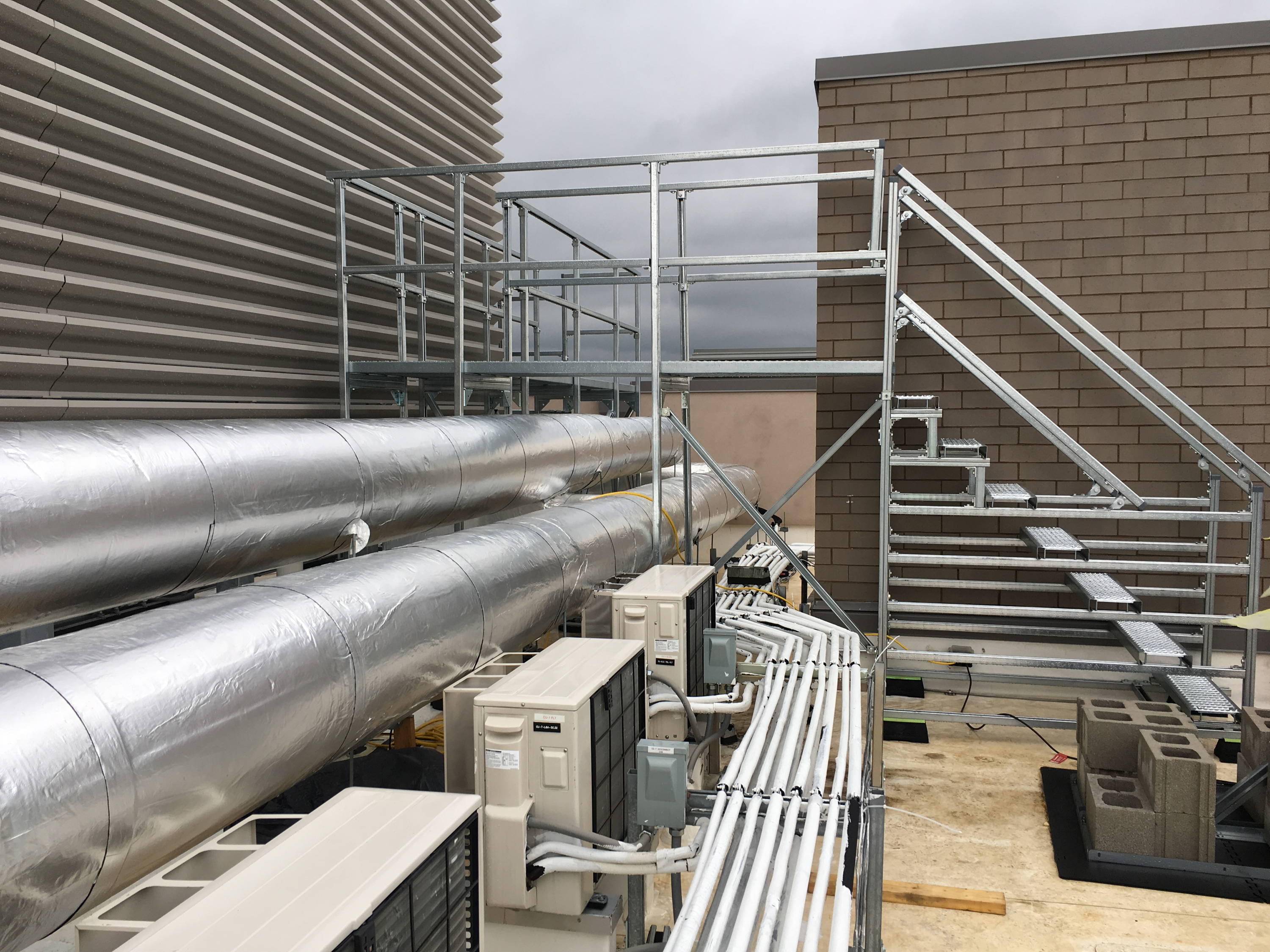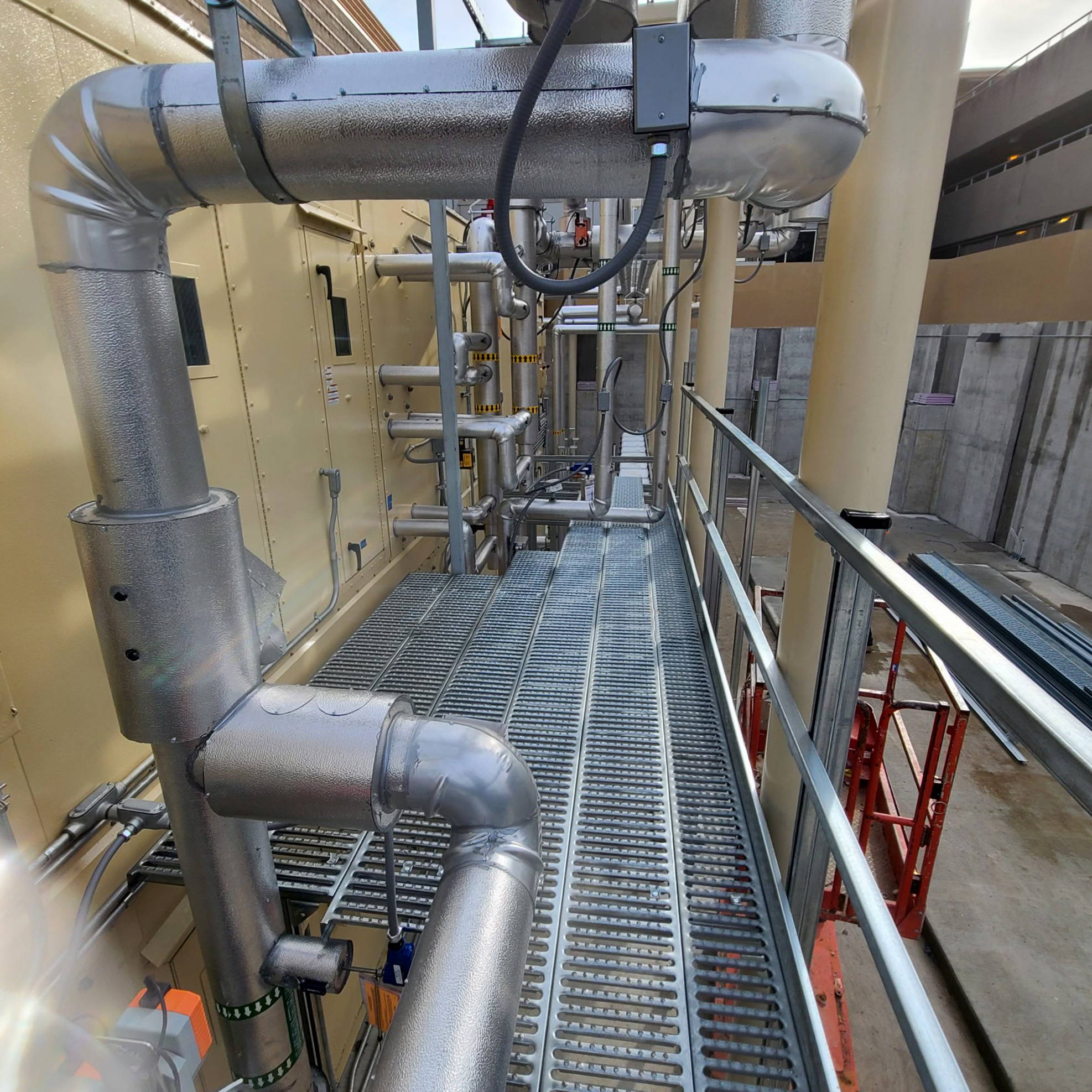 Unistrut Catwalk System Hanging from a Pitched Roof Structure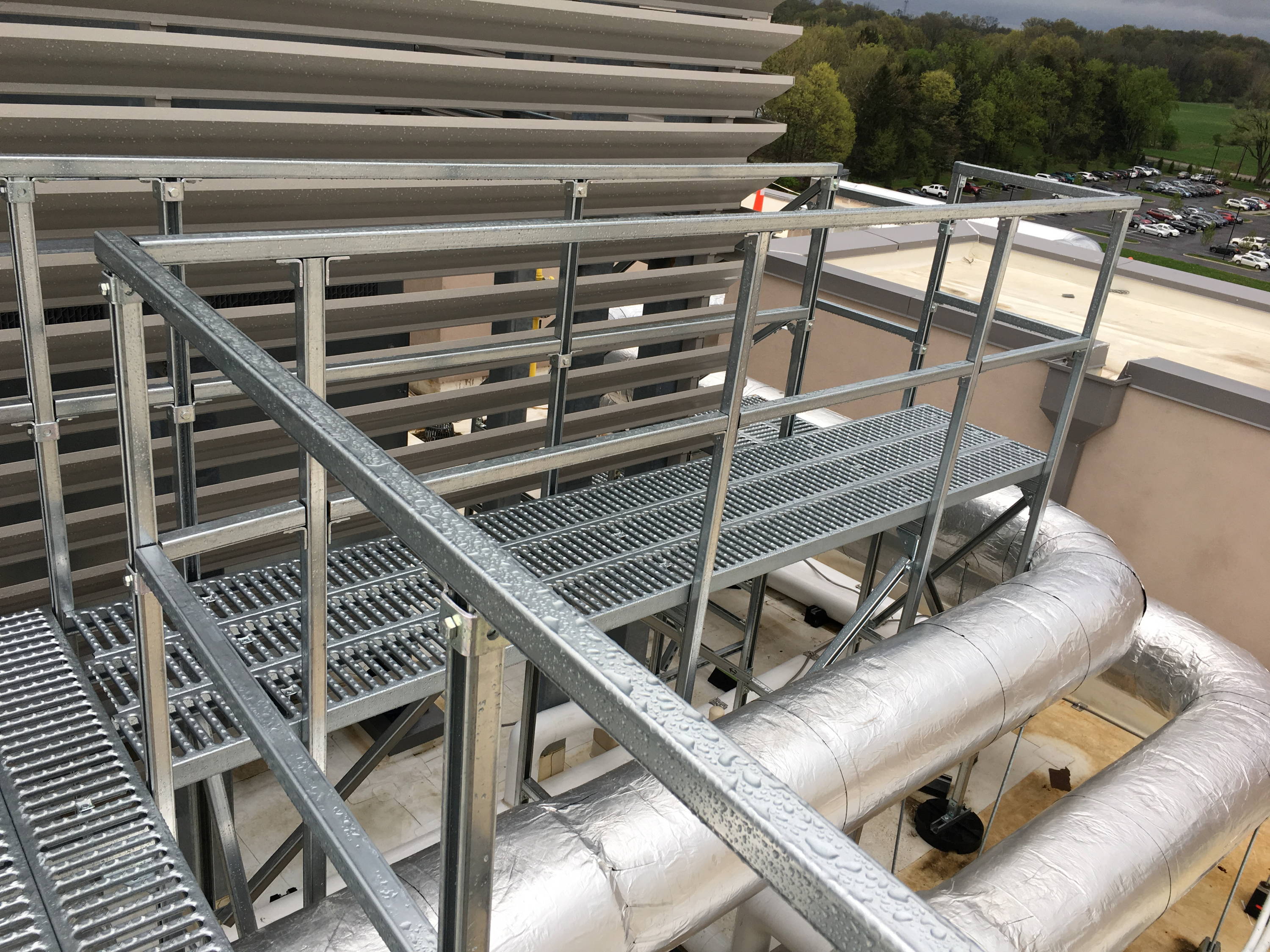 Unistrut Rooftop Catwalk System
Make Unistrut Midwest Your Catwalk Manufacturer
If you are looking for a reliable OSHA catwalk manufacturer, Unistrut Midwest is equipped with knowledge and expertise. Our products are reliable for safety compliance and versatile enough to change with your facility.
We are excited to see how we can serve as your catwalk manufacturer!