Unistrut Midwest has been designing and engineering Unistrut Walkway Systems for over 70 years. If you have an upcoming project that might require a maintenance or access catwalk, please allow our design professionals to recommend the right system for your project. Our design team will offer assistance free of charge on any size catwalk projects. If your project requires stamped engineered drawings or structural calculations, we offer those services as well for a minimal fee.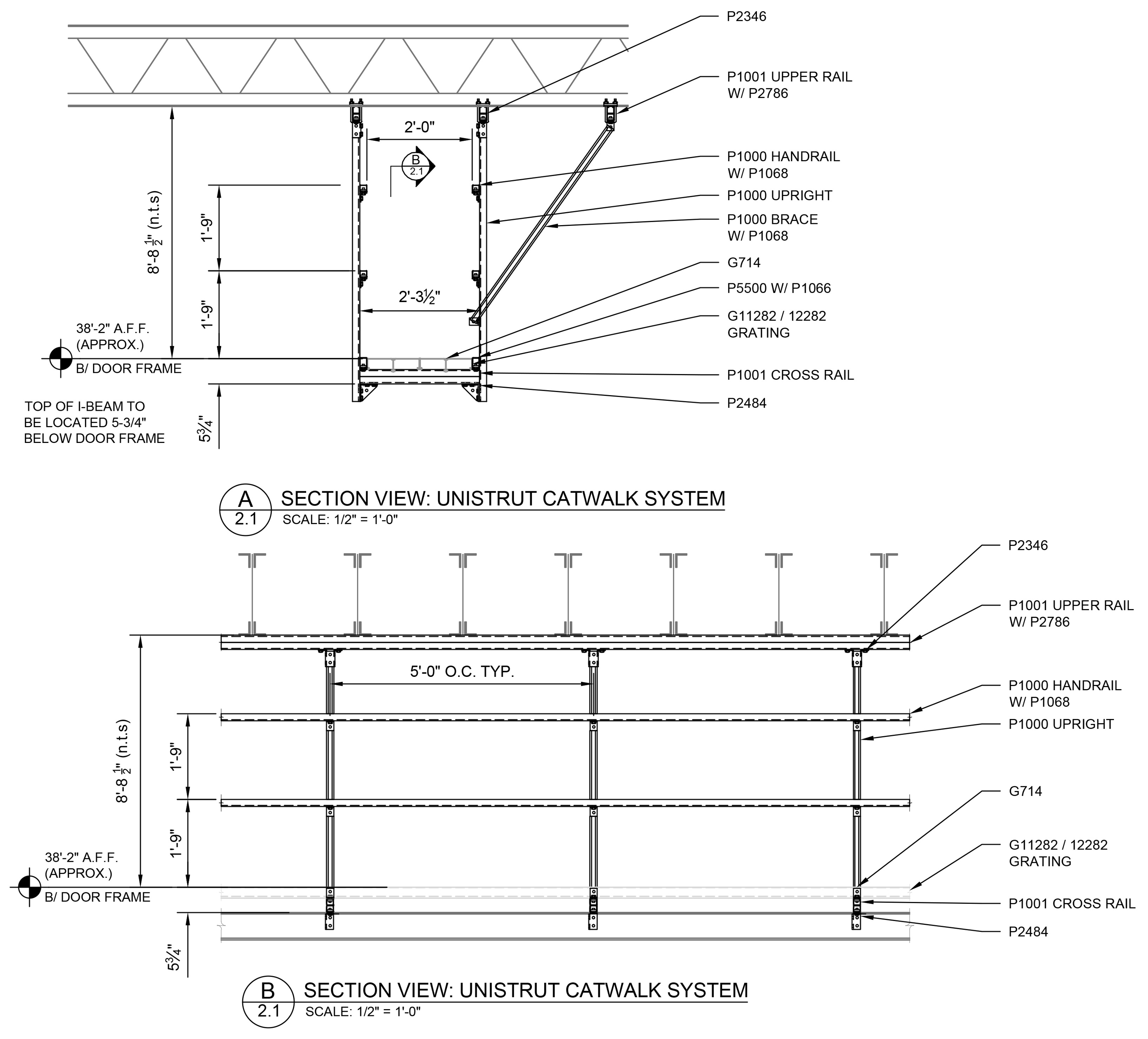 Unistrut Midwest offers no cost design support on any Unistrut project. With decades of experience, our team is here to help you find the appropriate solution to your application - from blueprints to material breakdowns.


---
Catwalk Design Required Information
We realize that we may join projects at any stage of development, but in order to provide the best recommendation or quote possible, we ask for the following information. If you are missing any of this information or need assistance gathering this information, please contact our design team and we can work through your project together.


Desired Layout of the Catwalk System
The more detailed the better, but we can work with CAD drawings or even a hand sketch to make a proper recommendation.
Structural Details or Drawings
We will be hanging a catwalk system from the building's primary steel or structure, so we need a detailed account of what the Unistrut System will be attached to. If the catwalk will be hanging from steel beams or joists, please indicate the orientation of the walkway to the primary steel and spacing of the beam.
Please let Unistrut know the elevations of the primary structure, the desired elevation of the walkway surface, and (if applicable) the finish ceiling height.
Width of the Walkway System Desired
Unistrut can design a system to meet almost any desired width or make recommendations from past projects on the width of the walkway.
Load Requirements of the Walkway
If you have a pounds per square foot load requirement, we will design a system to meet the required load. If you need recommendations for the design load, let us know the purpose of the walkway and we can make a recommendation.
Please let us know if there are any special requirements outside of the other questions. Whether you project is in an existing facility and requires work around active manufacturing, or the environment requires a stainless steel system, we can work with you on a solution for your access problems.