Our Unistrut ceiling grid system has been utilized by architects and engineers for years in projects like data centers, manufacturing plants, universities, casinos, and many more. A Unistrut ceiling grid allows you to create a flexible support system that can convert an otherwise unusable interstitial space into a universal support system.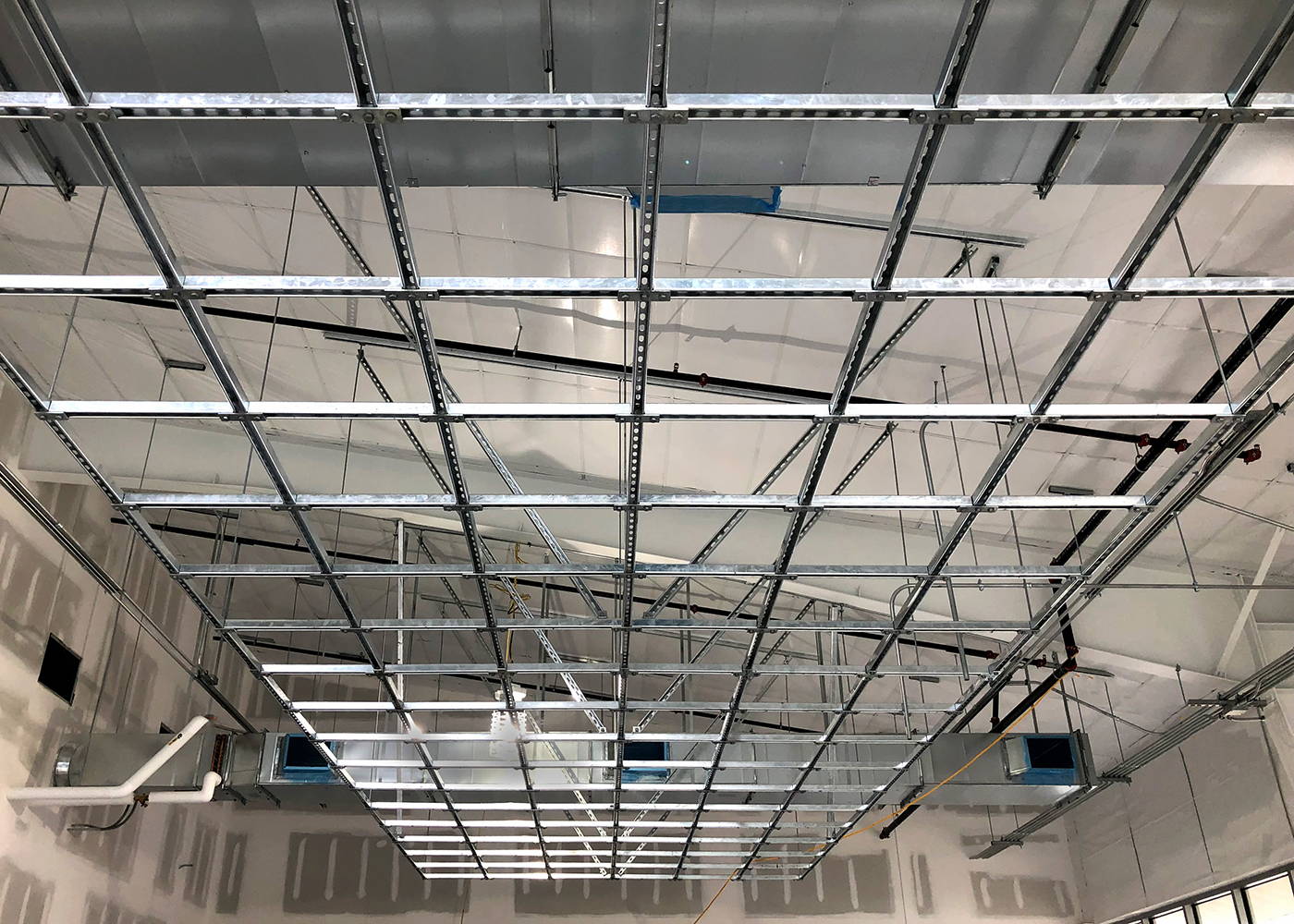 Unistrut grids are often used to support electrical and mechanical services, acoustical ceilings, catwalks, decorative panels, cable/fiber tray, theatrical lighting, medical equipment, air tools, and many other applications. Get in touch with your Unistrut professional today for more information!
Benefits of a Unistrut Structural Ceiling Grid
Unistrut metal framing is available in a wide range of profiles from the 1-5/8" x 1-5/8" P1000 to the 1-5/8" x 6-1/2" P5001. This variety allows Unistrut to design a ceiling grid around your specifications in grid size, pattern, spacing, and design load. The Unistrut structural ceiling grid can be designed to handle loading requirements ranging from 2 lbs. per square foot to 100 lbs. per square foot. Contact the Unistrut design team for more information and recommendations on your project today!
Since the structural grids are designed using Unistrut metal framing products, you get all the advantages of the Unistrut system. Unistrut ceiling grids are all bolted, and require no welding. Unistrut channels have a continuous slot that allows for a connection at any point along the channel.
This feature allows for Unistrut to create a grid of any size. Unistrut offers fittings and beam clamps that allow the connection of the Unistrut ceiling grid to work with nearly any structure. Unistrut ceiling grids allow the end user to easily move or add Unistrut members to the system for future requirements.
Our ceiling grid can be found in commercial, industrial, or retail applications which all have their own unique requirements. If your retail project requires a ceiling grid system that will aesthetically match the existing conditions, we can offer a special powder coat finish unique to your project. If the commercial project is found in a warehouse that only allows connections every 10', we can design a system to meet those needs.
If your industrial project needs to support an additional 20 lbs. per square foot in a service gallery, Unistrut can design that section to support the additional weight. Unistrut Midwest has the resources to develop a solution for your project, such as using our ceiling grid to convert your system into a supported space.
Unistrut components used to make our Unistrut ceiling grid system are often very repeatable and are able to be prefabricated and shipped to the job site assembled. The repeating elements include items such as threaded rod drops, fittings, or sections of Unistrut channel. If the ceiling grid is a single plane design, Unistrut will ship the intermediate members cut to length and deburred. Prefabricating these components will reduce the number of on-site manhours and allow significant improvements to the installation times.
Ceiling Grid Project Photo Gallery
View some of Unistrut Midwest's favorite ceiling grid projects in the photo gallery below.
Unistrut Ceiling Grid Installed at The Ohio State University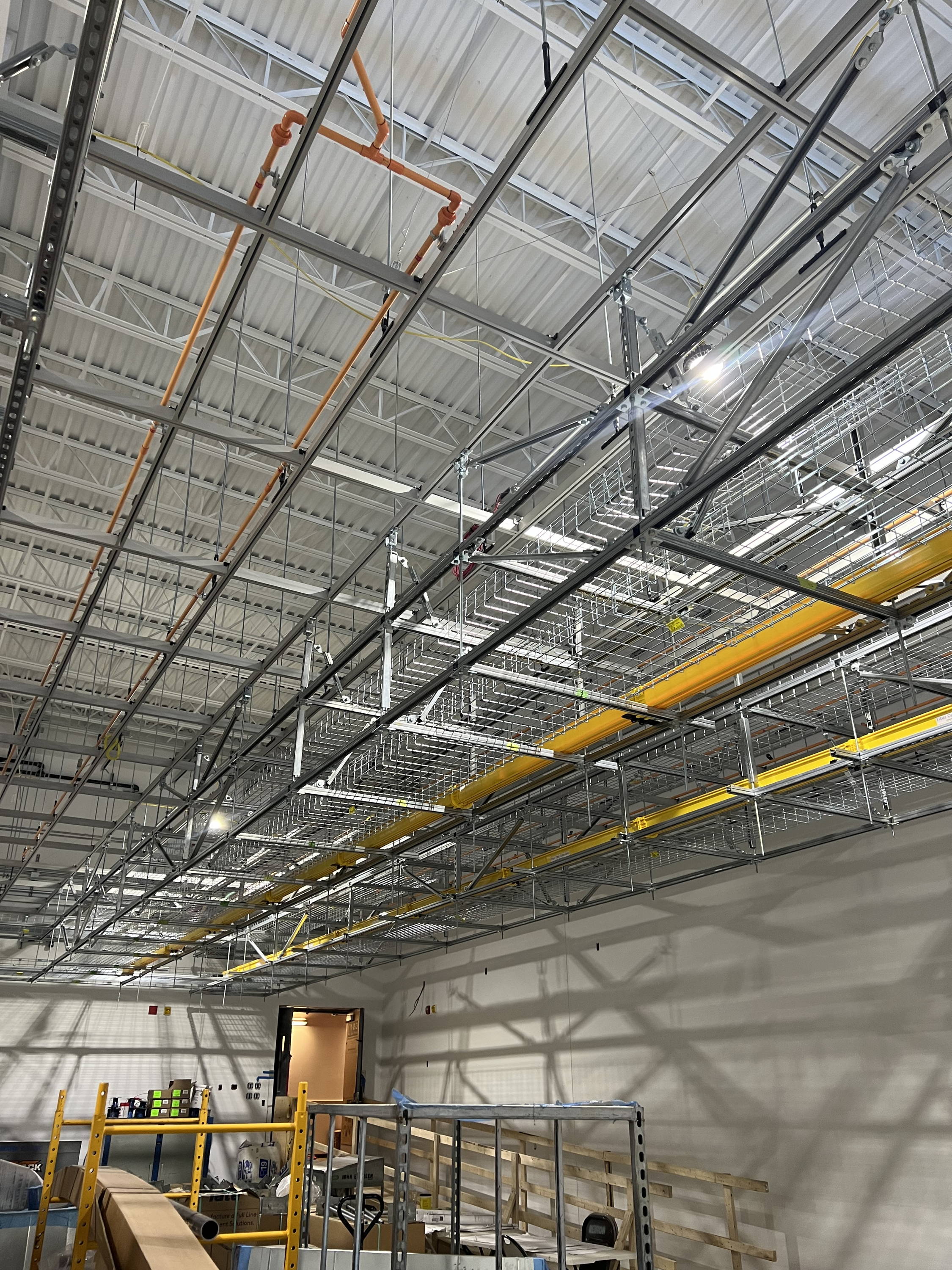 Unistrut Ceiling Grid Cable Trays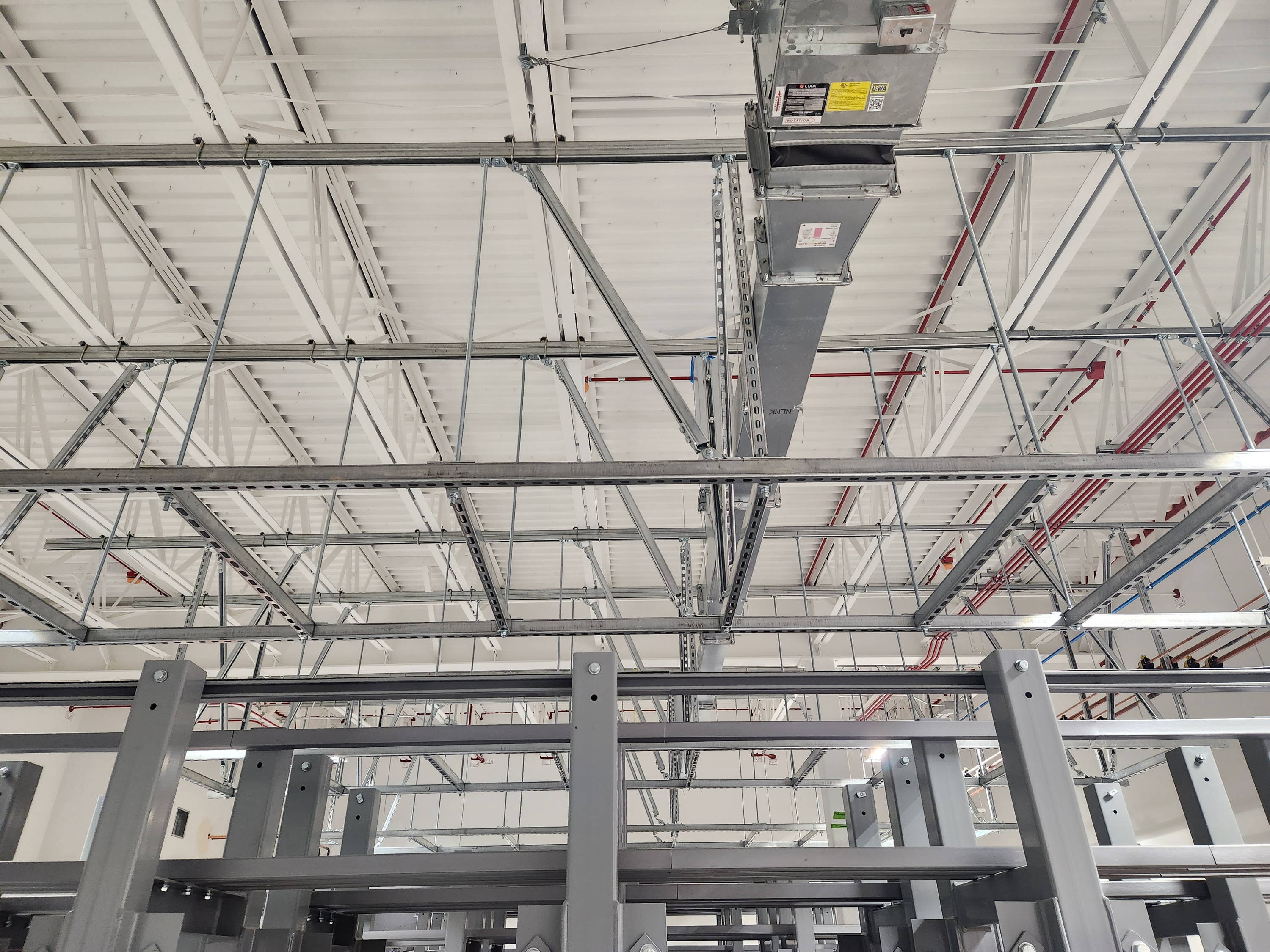 Data Center Ceiling Grid Installation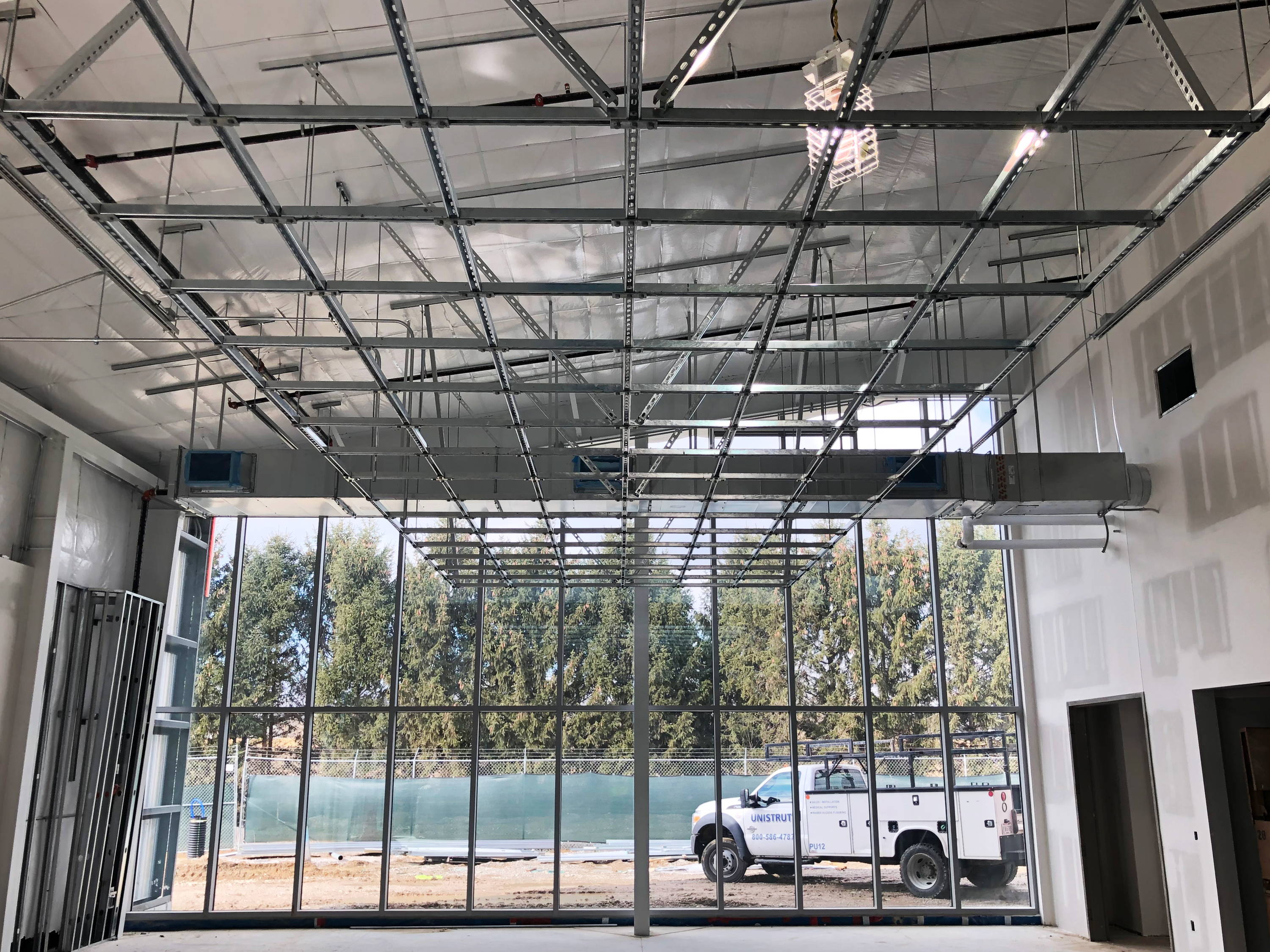 Ceiling Grid Fabrication and Installation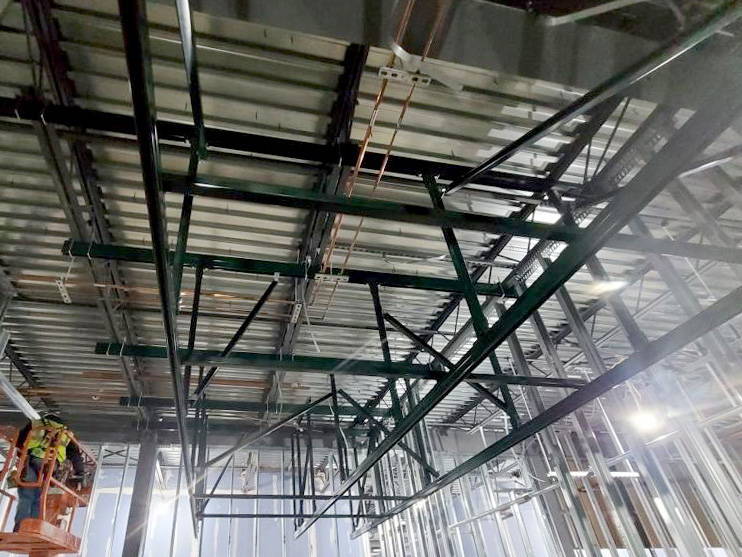 Unistrut Green Ceiling Grid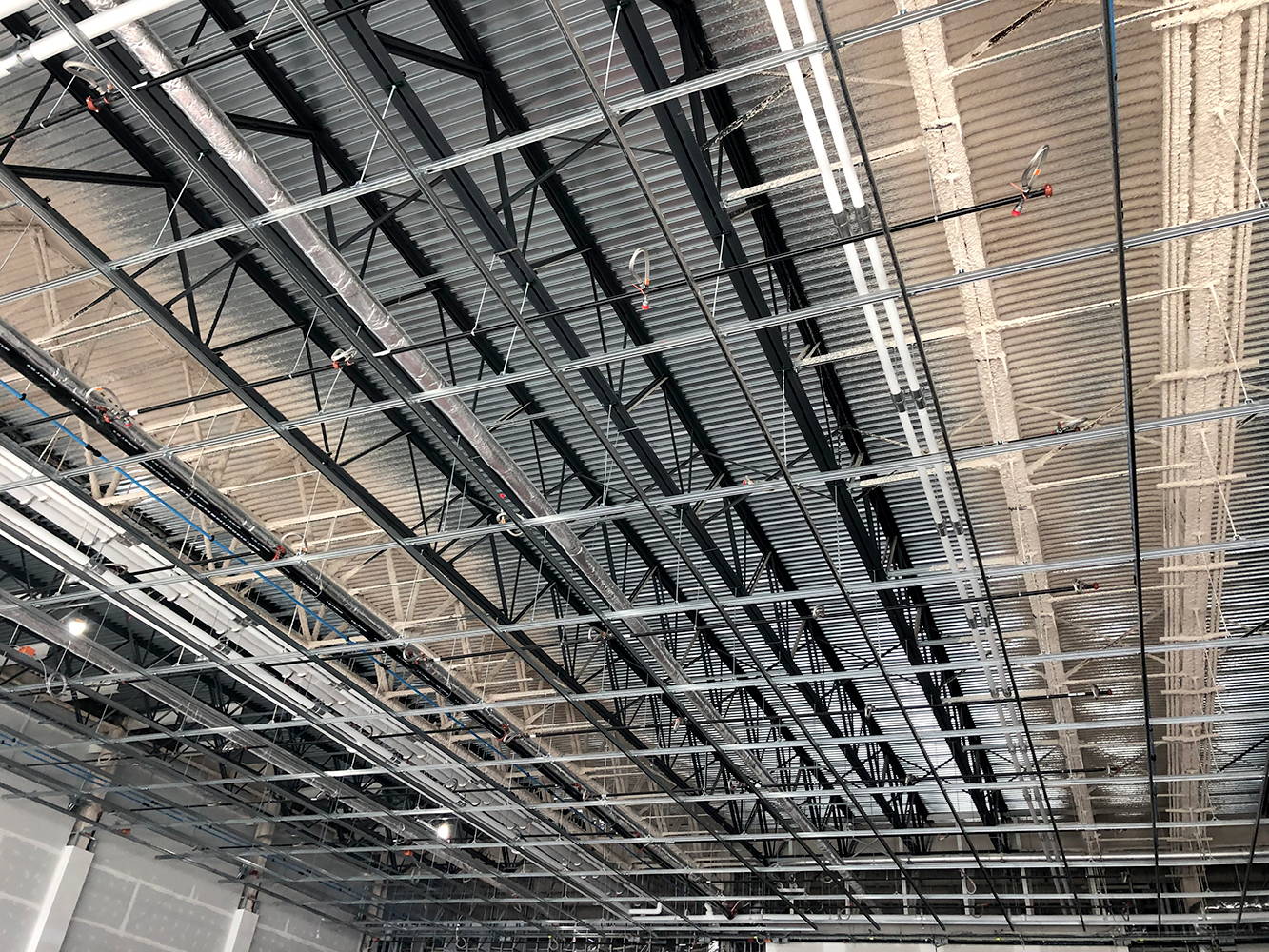 Unistrut Ceiling Grid Data Center Install
Choose Unistrut for Your Ceiling Grid System
You've read about the benefits of utilizing our ceiling grid system, but there are additional advantages of working with our company for any of our services. Some of the benefits you'll see firsthand are:
With the largest on-hand inventory of Unistrut products, such as our Unistrut ceiling grid, we have what you need to get the job done.

Our products, such as our structural ceiling grid, are American-made! In addition to this, our products are also traceable, allowing you to be there every step of the way.

We have a dedicated customer service team that provides quick response times to our customers, who are our number one priority.
We understand that speed is essential in manufacturing, and this is why we have perfected our shipping system. By keeping products in stock and ready at our warehouse, we can ship to you the next day.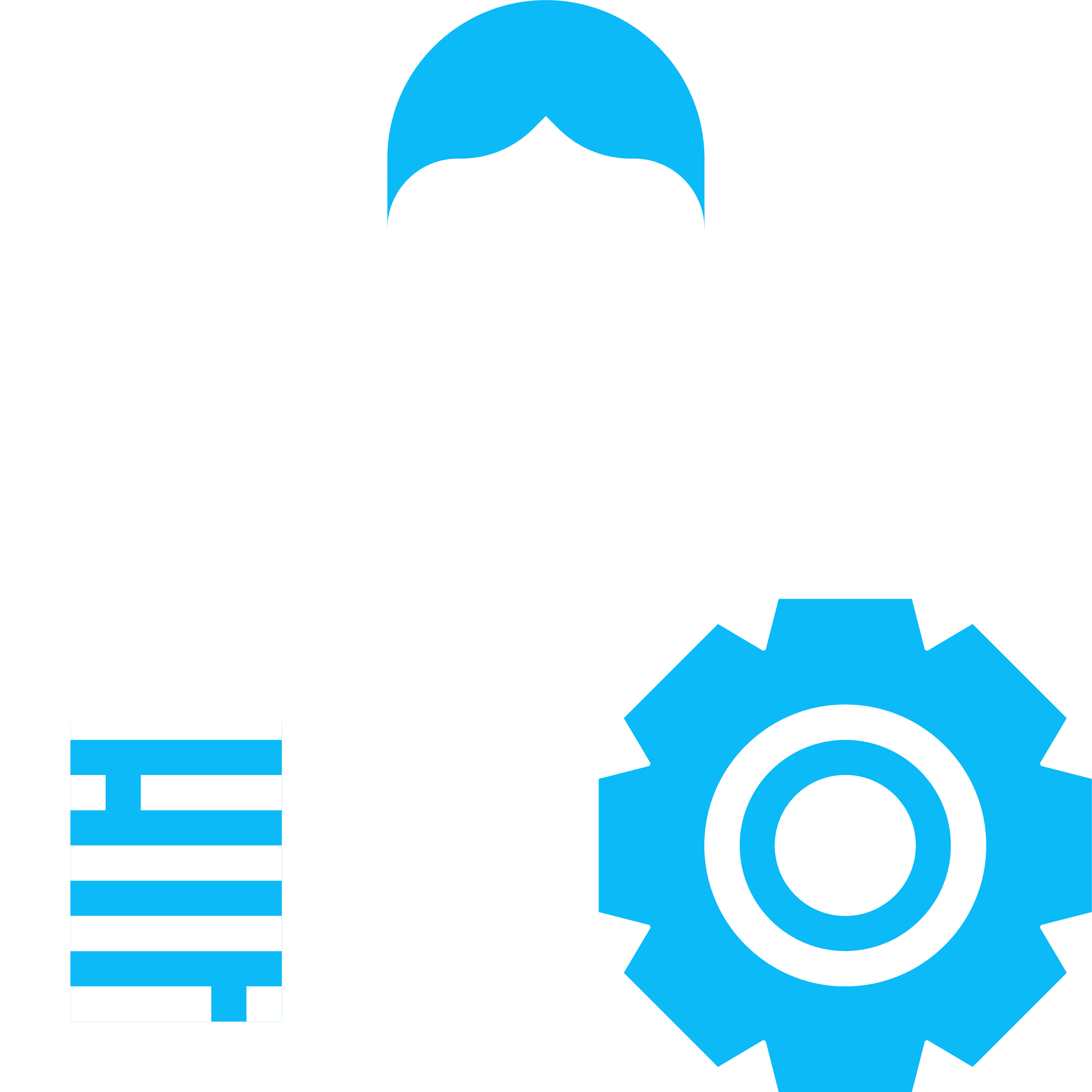 As a company that has been in business since 1986, we've seen it all. We've had the pleasure of working on a wide selection of projects with a variety of industries. Nobody knows the engineering side of a ceiling grid like the Unistrut Midwest team.
Contact Us to Learn More About Our Unistrut Ceiling Grid
Are you in search of a flexible support system such as our structural ceiling grid? We are more than happy to help you determine the right product for your application. Contact us with any questions or to get started today.