Unistrut Midwest has been designing and engineering Unistrut Roofwalk Systems for over 70 years. We offer full, turn-key solutions for any rooftop walkway, access platform, or crossover stairs. With the product lines and expertise to identify the right product and solution for your application, our team can match any project requirement, including walkway width. Our team can recommend the right system for your project, and our design team will offer assistance free of charge on any size roofwalk project. If your project requires stamped engineered drawings or structural calculations, we offer those services as well for a minimal fee.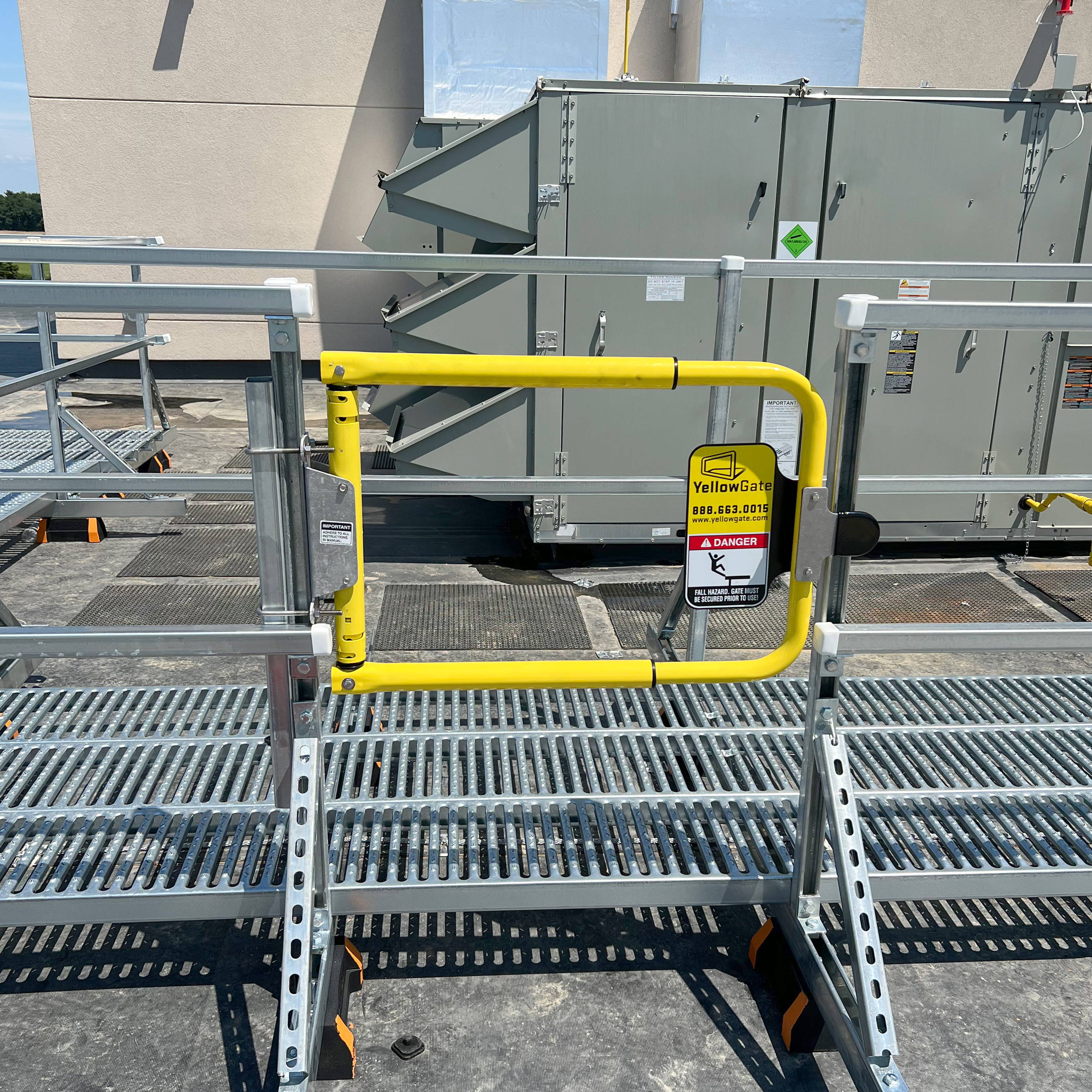 Roof Walkway Platforms for Built-Up and Membrane Roofs
Unistrut Midwest offers a full array of roof access walkway solutions for built-up, elastomeric membrane, modified bitumen membrane, urethane foam, and EPDM roof systems. Our built-up Roofwalks are fabricated with Unipier or RTS Support bases that raise the roof walkway off the roof surface, while also not damaging the roof. These walkways are available in widths of 18" and larger. All Unistrut rooftop walkways are available with handrails, kick plates, or YellowGate Safety Gates by request.


Roofwalk Design Required Information
We realize that projects could be at any stage of development, but in order to make the best recommendation or quote possible, we will ask for the following information. If you are missing any of the information, please contact our design team and we can work through your project together.
Desired Layout of the Roofwalk System
The more detailed the better but we can work with CAD drawings or a hand sketch to make a proper recommendation. Dimensions and the orientation of the walkway to standing seams are important to note, if available.
Is this walkway going on a Built-up/Membrane roof or standing seam metal roof? If the roof is a standing seam metal roof, please let us know the roof manufacturer, spacing on the ribs, and pitch of the roof.
Would you like your walkway to run flat with the pitch of the roof or be built level on a pitched roof? Do you need the walkway to be built off the roof at a specific elevation?
Width of the Walkway System Desired
Unistrut can design a system to meet almost any desired width or make recommendations from past projects on the width of the walkway.
Handrail Requirements of the Walkway
Would you like handrail on both sides of the walkway, one side of the walkway, No Handrail, or a combination of all three? Let Unistrut know where you would like handrail or kick plate on the walkway.
Desired Finish of the Roofwalk
Unistrut Roofwalks come standard in Electro-Galvanized Finish. However, if you have a more harsh environment Unistrut Roofwalks are available in Unistrut Defender (Corrosion Resistant finish), Hot-Dipped Galvanized, Aluminum, or Stainless Steel. We also offer custom powder coating if required.
Pre-Fabrication Required?
Would you like the system to be quoted with pre-fabrication? Unistrut Midwest will typically pre-fabricate the Grating Supports, Handrail Supports, or Stairs on Roofwalk projects. Ask us if that is possible on your project.
Special Requirements of the Project?
Please let us know if there are any special requirements outside of the other questions.
Metal Roof Walkway Systems for Standing Seam Roofs
Unistrut Midwest offers the Roofwalk System for many standard brands of metal standing seam roofing. Our full complement of connection hardware and support plates allow Unistrut walkways to run parallel, perpendicular, or even diagonal to the standing seams. The standard Unistrut grating planks are 18 ga and available in 6", 9", or 12" widths. All Unistrut rooftop walkway systems are available with handrail, kick plate, or YellowGate Safety Gates by request!
Unistrut roof walkway platforms are grouped by standing seam roof type. In order to provide an accurate quote or design for your project, please identify the Roofwalk group by your building's roof manufacturer.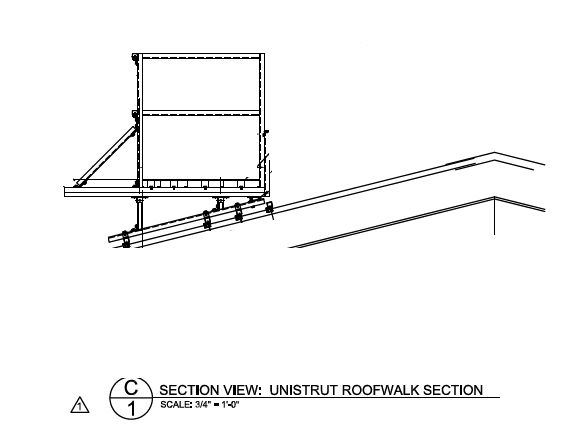 Group A
American Building, Atlantic Building, A.S.C. Pacific, Butler Building, Ceco Building, Carlisle, Gulf Stats, Mesco Building, Metal Sales Inc, Morin Corporation, M.B.C.I, Nucor Building, Star Building, U.S.A. Building, Varco Pruden, Wedgcore Inc Building
Group B
A&S Building Systems, Inland Building, Steelox Building, Summit Building
Group C
Stran Buildings
Group D
Pascoe Buildings, Steelite Building, Inland Building
Group D
Chief Industries, Fabral Building
Roofwalk Engineering Project Gallery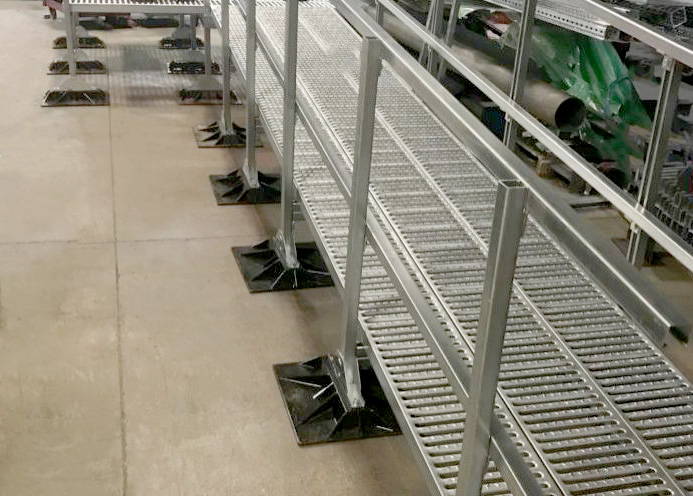 We can design and engineer Unistrut Roofwalks to work within your parameters and needs.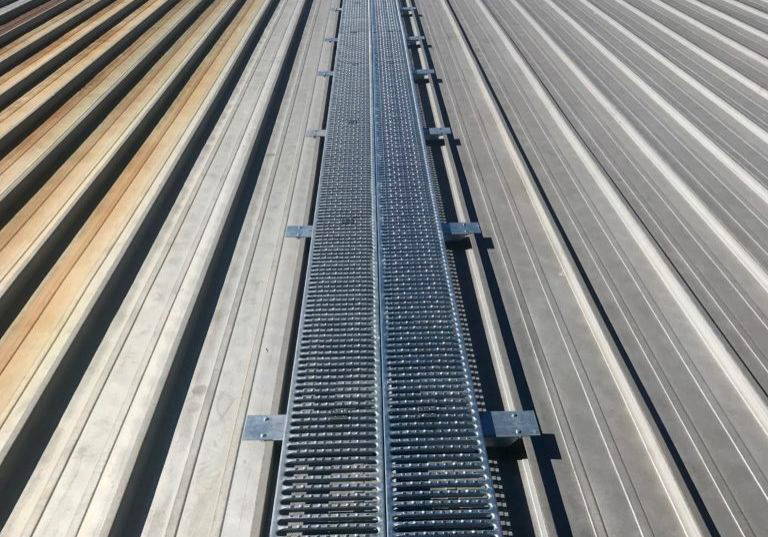 Unistrut Roofwalk platforms are grouped by standing seam roof type, so please identify your Roofwalk group by your building's roof manufacturer.
We can accommodate different requirements for your Roofwalk including elevation, width of walkway, layouts, and desired finishes.