Unistrut Midwest carries Concrete Sign Bases for applications where driving an anchor into the ground is not possible.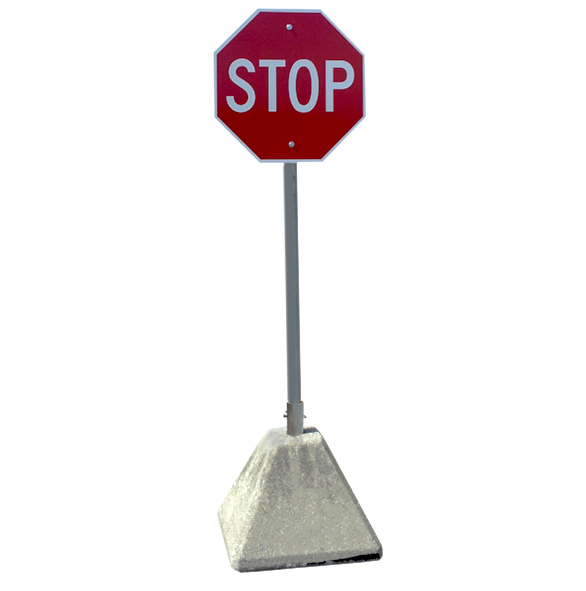 Solid concrete pyramid shaped signpost base with attached hammer-tone finished steel signpost holder. Makes installing signs in a temporary or permanent location easy. When it is not practical to dig a signpost hole or utilize a surface-mounted bolt-down sign holder, this concrete signpost base can be your solution. Set the base in place, drop your signpost into the post holder, and secure the post with the locking bolt.
---
Concrete Sign Bases Applications
Perfect for Temporary or Permanent Sign Placement
Ideal Solution for Protecting Signs Posts in High Traffic Areas, such as Parking Lots
Unistrut Includes the Concrete Base with Galvanized Sleeve and Post
Post length is available in 8′ or 10′ lengths
Perforated or Solid Posts Available
Telescoping Tube for Easy Assembly
Telestrut and Telespar telescoping tubing offer efficient assembly with no welding, drilling, or other time-consuming fabrication, plus five different fastening options, including a rivet system for super-fast boltless assembly. Other fasteners include the Unistrut spring nut and bolt, standard through-bolts, and for temporary connections, a removable, self-locking gravity pin. A complete line of over 200 Unistrut fittings and components is part of what gives the Unistrut telescoping strut system its design and fabrication versatility.