Wire Partitions are modular steel systems that are used for safety, security, and separation. Unistrut Midwest is a distributor and installation services provider for several nationally recognized Wire Mesh Partitions brands. Some of the more common applications for Wire Mesh Partitions are Tool Cribs in Industrial Facilities, Storage Lockers in Residential Buildings, Security Cages in Data Centers, and Evidence storage in law enforcement facilities.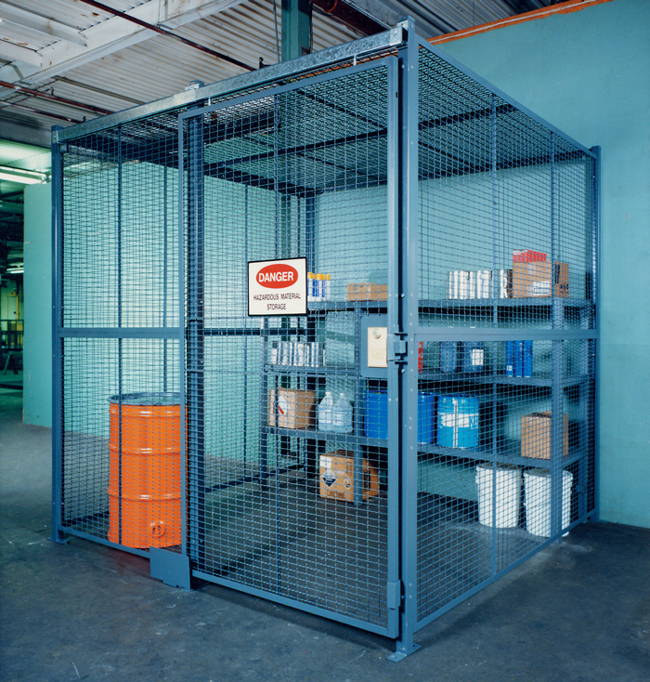 Wire Partitions come in both welded wire or woven wire with varying degrees of wire thickness to match requirements of the application. Doors are available as hinged doors, sliding doors, dutch doors, or tunnel doors. The hardware for the doors can be customized to include Mag Locks, Electric Strike, Card Readers, and more. The Wire Partitions are also available in a wide range of finishes from custom powder coat colors, galvanized steel, or standard black, grey, and safety yellow. Our experienced sales team can recommend the correct product to match your application. Contact us today to discuss your project!


---
Typical Wire Partition Applications
Tool Cribs
Storage Cages
DEA Drug Storage Cages
Server and Colocation Cages for Data Centers
Evidence Lockers
Holding Cells
Driver and Building Access Partitions
Machine Guarding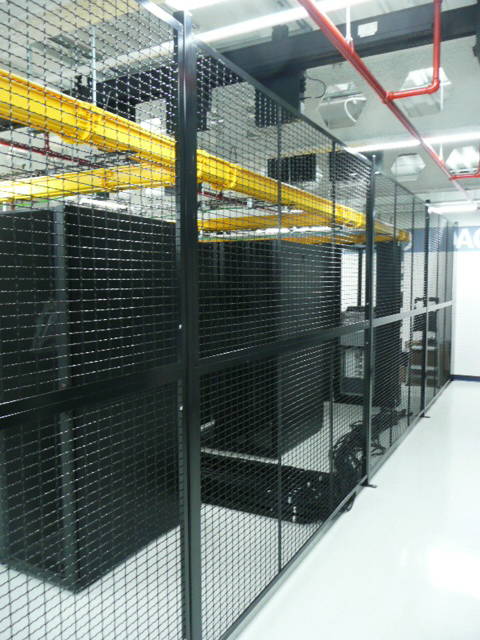 Unistrut is a proud distributor of Wirecrafters products. The most popular Wirecrafters product for Unistrut Midwest is the Series 840 Woven Wire Mesh Partition. These standard duty panels are constructed of 10 gauge wire, woven into a 2" x 1" rectangular mesh design. This wire mesh is then welded into a 1-1/4" x 1-1/4" x 1/8" hot rolled angle. Depending on the size of the panels, they also weld a flat stiffener bar to the mesh and angle frame. The wire mesh panels then bolt directly to a 2" square, 14 Gauge steel tube post with 3/8" hardware- which is the strongest in the industry. The posts have a welded base plate and Unistrut includes the anchors with each post. Wirecrafters designs this Wire Partition system with all of the hardware on the inside of the cage. With hardware only accessible from the inside of the enclosure, security is guaranteed.
---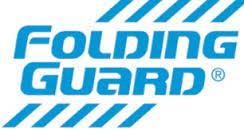 Folding Guard Qwik- Fence Welded Wire

Qwik-Fence® Welded Wire Partitions is an extremely tough, but attractive, system for separating and securing any space. We secure galvanized wire in a grid pattern welded at each intersection. The process creates more than 500 welds in a 4′ x 8′ panel, and that produces a wire mesh partition panel that is substantially stronger than woven wire partitions.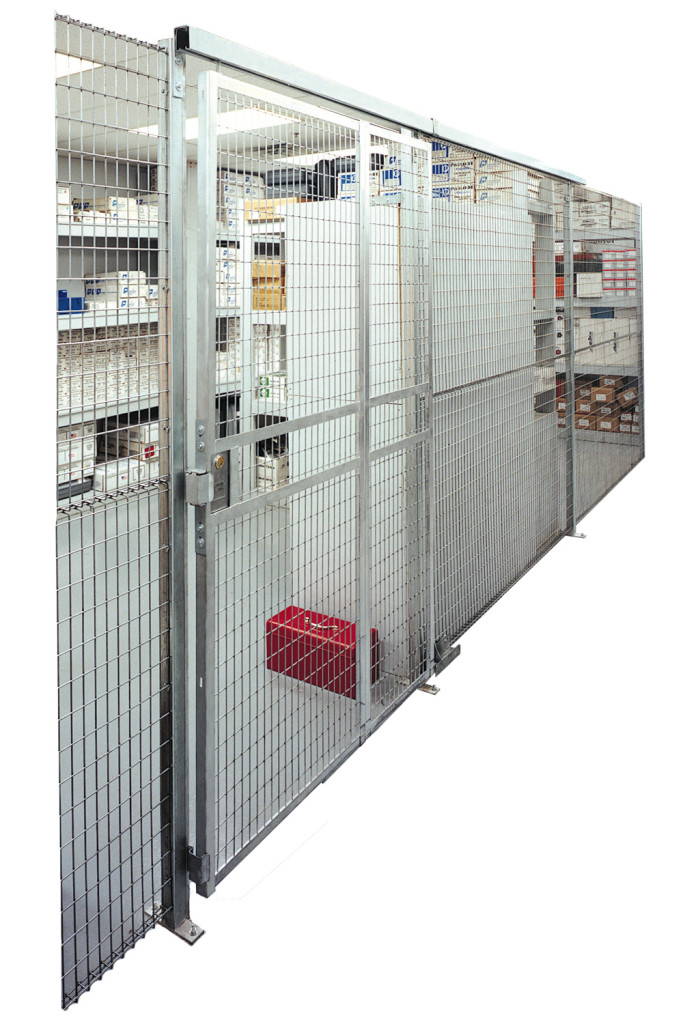 Benefits of Qwik-Fence® Welded Wire Partitions
Partition panels, posts, and doors are all-steel and completely galvanized for long-lasting performance and appearance. Open welded wire mesh design provides an unobstructed view and allows air circulation and light penetration while providing security.
Qwik-Fence welded wire partitions install 25% faster by employing fewer parts and self-tapping screws, instead of the nuts and bolts used in conventional systems. Doors are pre-hung, cutting installation time in half. And because there are no pins to drill out, Qwik-Fence can be reconfigured faster and more easily, saving additional labor costs. Qwik-Fence installs faster on uneven floors compared to other systems, which require shimming of each post.
Qwik-Fence welded wire partitions offer the lowest total cost of ownership of any wire partition system on the market.
Unlike woven wire partitions that unravel when cut, Qwik-Fence welded wire partitions can be trimmed in the field to accommodate changes in dimensions, floor or wall irregularities, custom conveyor or lift systems, and overhead piping or obstructions. Qwik-Fence panels can be attached to posts at angles other than 90 degrees, providing greater flexibility in the shape of your wire partition enclosure, which allows more efficient use of space.
Qwik-Fence welded wire partitions get their strength from the 8-gauge welded wire mesh, all-steel construction, floor anchoring system, and thick-wall square tubing posts. Panel hardware is accessible only from the inside of partition for added security.
Qwik-Fence welded wire partitions look new for years to come. Galvanized components are maintenance-free. No paint touchups are ever needed.
Qwik-Fence welded wire partitions are ideal for separating and securing any space in industrial, commercial, or government environments. Qwik-Fence can be used to divide work areas and create secure storage in stock rooms and tool cribs.
The component system makes planning, installing, and relocating easy in any space. Panels stack on top of each other between posts to create enclosures up to a height of 75 feet.
Bright, steel wire mesh gives it a clean, attractive look in both office and production areas. Powder coated colors are optional
Wire Partition Project Photo Gallery
View some of Unistrut Midwest's wire partition projects in the photo gallery below. Contact us for information on any of the projects in the galleries!