Unistrut Midwest has vast experience in the installation of Unistrut Catwalk Systems across the United States. Our professional crews have installed walkways ranging from 10 to 1,000 lineal feet, so no project is too large or small for our team to tackle. We also have a network of subcontractors across the country, so regardless of your projects location we can provide a professional, trained Unistrut crew to install your walkway. Unistrut Midwest has the expertise to get your job done safely and on schedule. Unistrut provides an all-in-one catwalk solution, from supplying materials to on time delivery and installation.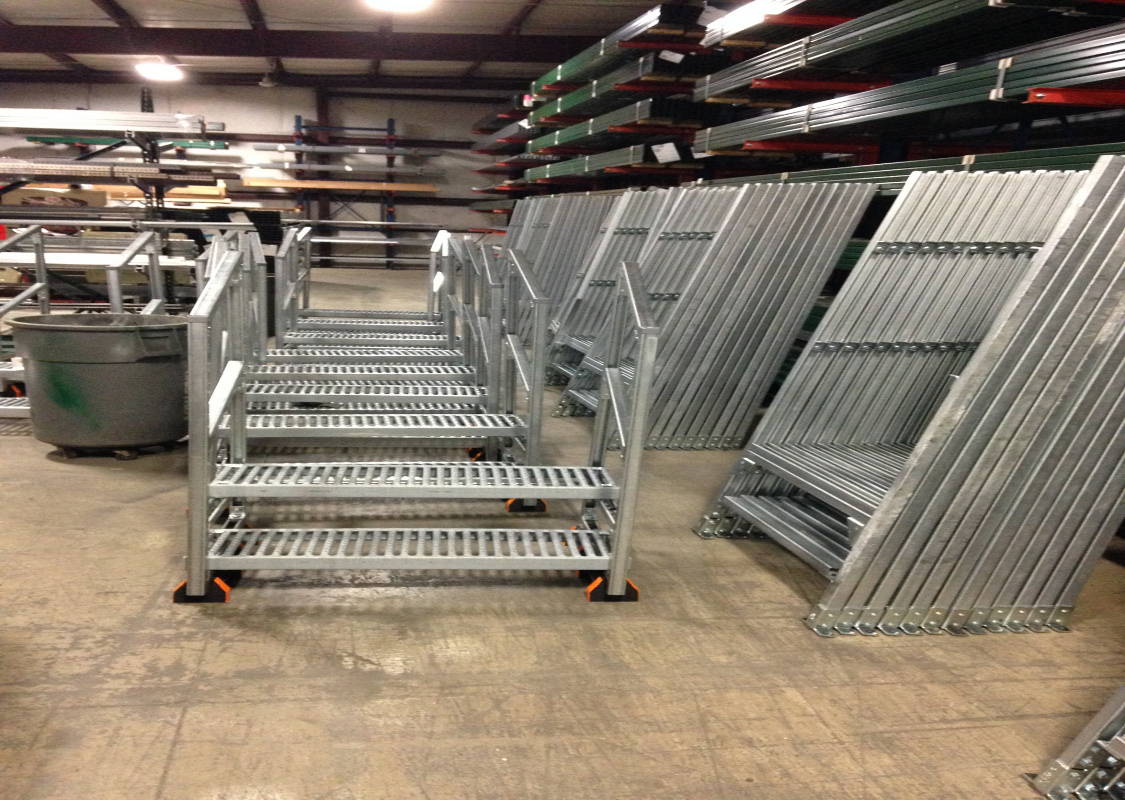 Unistrut Midwest offers many pre-fabrication solutions in order to reduce on site man hours, reduce project costs, and reduce waste. Our pre-fabricated solutions reduce the number of man hours by simplifying the installation process for the field crews. Any activity such as cutting channel to size, pre-assembling fittings, or building repeatable components that can be accomplished in our warehouse at ergonomically adjustable work stations is done before arriving on site. Pre-fabrication reduces on site work and eliminates much of the waste associated with building walkways with stock materials on site, which lowers the walkway cost overall.
Unistrut Midwest Catwalk Pre-Fabrication Services
From design to installation, the Unistrut Midwest team can make your Catwalk system needs a reality. Our catwalk pre-fabrication services simplify installation and reduce downtime on site.
Professional Installation
Our installation crews adhere to the latest safety requirements on all catwalk projects. All Unistrut Midwest employees carry an OSHA 10 hour certification, and our foremen carry OSHA 30 hour certifications. We also require all site-specific PPE to be worn at all times.
Our catwalk pre-fabrication services include cutting the required prefitted channels to size. Orders with less than 50 individual cuts are done at no charge. Our standard saw cuts have a +/- 1/16" tolerance, but more exact cuts are available for an additional fee.
For catwalk systems, our team pre-fabricates handrails, pre-cuts grating to size, and packages required channels, fittings, and hardware into easy-to-use kits. Your walkway arrives on-site pre-built and labeled for an easy, step-by-step installation. Or, hire our installation team and they will complete install in less than a week (for most projects).
Unistrut Midwest offers custom welding solutions on any Unistrut application. Whether you need additional stitch welds for increased loads or custom sized post bases, we can fabricate a solution to meet your project's requirements.
Unistrut Midwest is able to provide Unistrut Channel and fittings in custom colors. Extended lead times may apply to non-standard colors.
Learn More About Our Unistrut Catwalks
Unistrut Midwest is here to help you source, pre-fabricate, and instal your catwalk systems.