Unistrut Midwest provides installation and pre-fabrication on Unistrut Ceiling Grid projects nationwide. Our professional crews have installed grids ranging from 200 sf to over 150,000 square foot. If your project is outside our normal service area, we can connect you with a trusted subcontractor in your area and provide you with a professional, trained Unistrut crew to install your grid system. Unistrut Midwest has the expertise to get your job done safely and on schedule. Contact us today!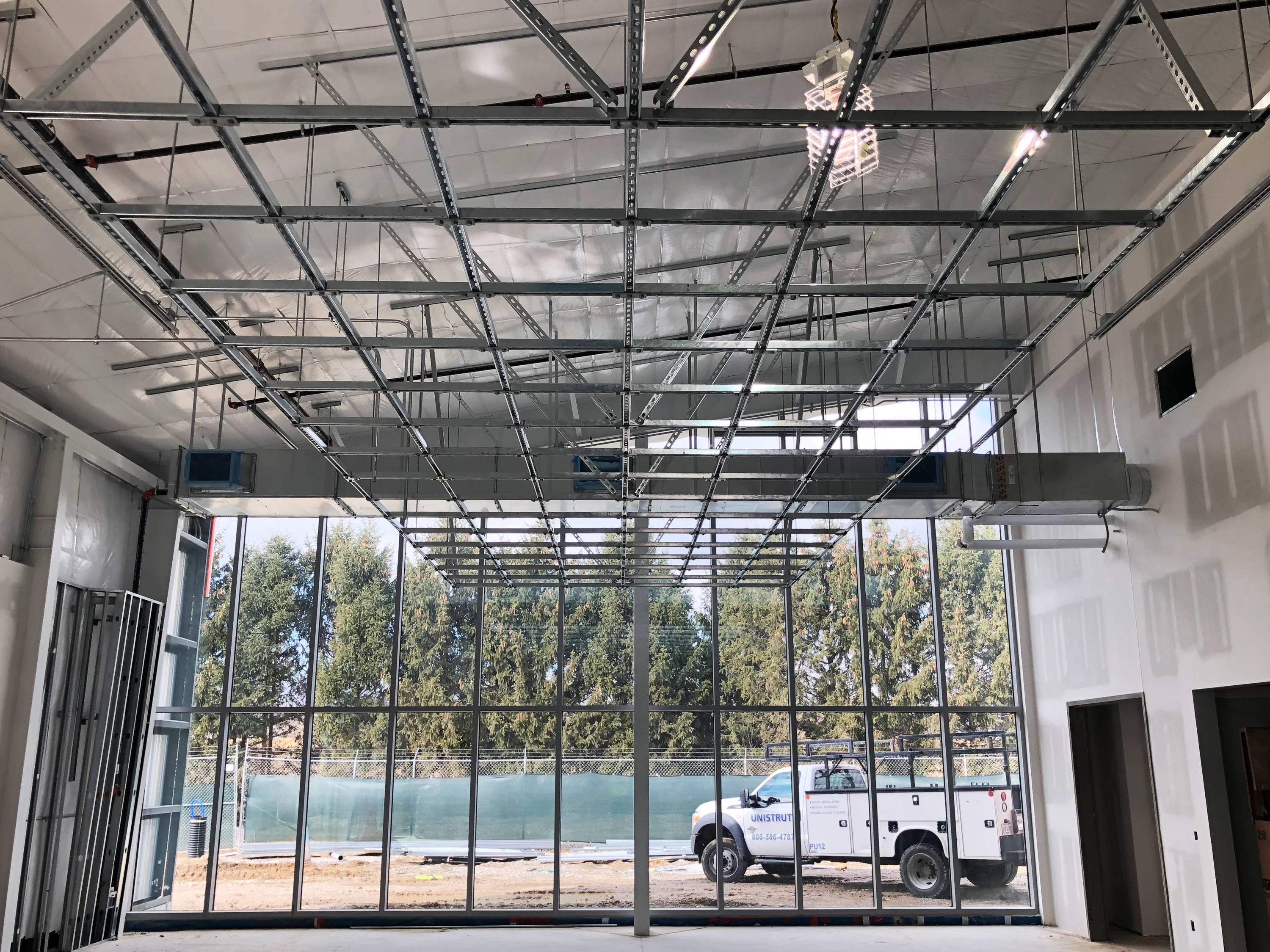 Pre-Fabrication of Unistrut Ceiling Grid Components
Unistrut Midwest offers many pre-fabrication solutions in order to reduce on site man hours, reduce project costs, and reduce waste. Our pre-fabricated solutions reduce the number of man hours by simplifying the installation process for the field crews. Any activity such as cutting channel to size, pre-assembling fittings, to building repeatable components that can be accomplished in our warehouse at ergonomically adjustable work stations is done before arriving on site. Pre-fabrication reduces on site work and eliminates much of the waste associated with constructing ceiling grids with stock materials on site.


Unistrut Midwest Ceiling Grid System Pre-Fabrication Services
Our ceiling grid pre-fabrication services include cutting the required channel to size, making your channel faster and easier to install once it arrives on your job site. Orders with less than 50 individual cuts are done at no charge.
Prefitted Channels and Kitting
Unistrut Midwest takes your precut channel and preloads the necessary nuts, bolts, and fittings to create easy to use ceiling grid kits. We also label the components so that once your ceiling grid is on site, your team can simply place it, tighten the fittings, and complete your installation.
Custom Ceiling Grid Welding
One of the benefits of working with Unistrut Midwest is not needing to weld your ceiling grid pieces and parts. However, when it comes to working with previously existing primary structure, our team will handle the welding and adapt to existing structures to ensure an effective and smooth installation.
Unistrut Midwest is able to provide Unistrut Channel and fittings in custom colors. We can match existing ceiling colors, customize for school or brand colors, and provide a durable and professional finish for your ceiling grid.
If Unistrut Midwest is providing materials only for your project, we can still pre-fabricate and tag components for your field crew.
This simplifies the installation for crews who do not work with Unistrut daily and reduces any down time on site. Since the ceiling grid components show up pre-built and labeled for an easy step by step installation, the installation crew should be able to have a minimal learning curve with our systems. Contact us for further explanation of these services and we would be happy to assist with your project.
Ceiling Grid System Gallery