Unistrut Midwest is a Master Distributor of ErectAStep Modular Platforms and Stairs. ErectAStep offers the highest quality modular platform and stair system on the market today. The ErectAStep system is an all-aluminum construction that utilizes only five components to build crossovers and platforms in a virtually limitless number of configurations. ErectAStep systems are pre-engineered and components are stocked in Cincinnati, OH.
Why buy ErectAStep Modular Stairs and Platforms?
ErectAStep can be designed for your custom needs and allows for units to be repurposed later in different configurations.
Pre-Engineered Components
ErectAStep provides an off the shelf, engineered system. Saves you time and money over custom engineering costs associated with traditional welded systems.
Safety Compliance Built In
ErectAStep systems are OSHA approved and will lower your risk of ownership, while increasing safety.
Costs Less than Custom Fabrication
ErectAStep uses standard components which have a lower cost of ownership than traditional welded steel or custom aluminum structures.
All Aluminum Construction
ErectAStep components are made from high strength and lightweight aluminum. This provides a corrosion resistant material that is ideal for both interior and exterior applications.
In Stock and Ready to Ship
ErectAStep components are stocked in Cincinnati, OH and Andrews, SC. Most orders are ready to ship with 24 hrs anywhere in the United States!
ErectAStep quickly configures to gain safe access over pipes, duct, or other obstructions. Three platforms can be bolted together in a series without tower supports, providing up to 9′ of linear clearance. If additional clearance is needed, more platforms can be bolted together and simply add a tower support every third platform. Contact Unistrut Midwest for configuration assistance and we will make sure you get a proper design to match your requirements.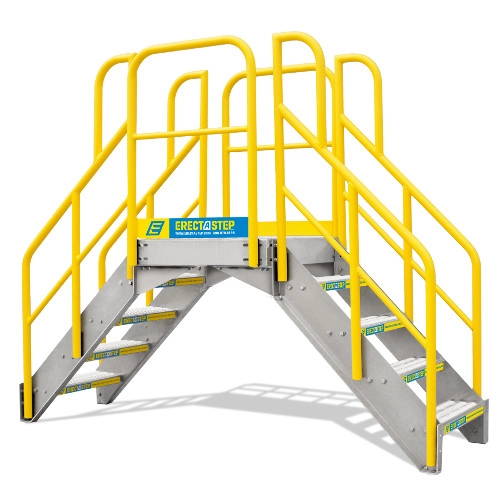 ---
ErectAStep work platforms replace wobbly ladders or work stands with an OSHA approved safe work platform. These platforms will allow workers to safely work at an ergonomically friendly height.
---
ErectAStep Crossovers and Platforms are ideal for creating a safe means of access over conveyor or assembly lines. These configurations allow direct access to work areas and help identify clear paths of travel in a plant.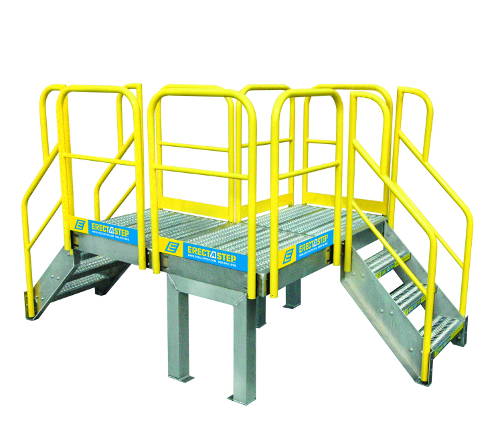 ---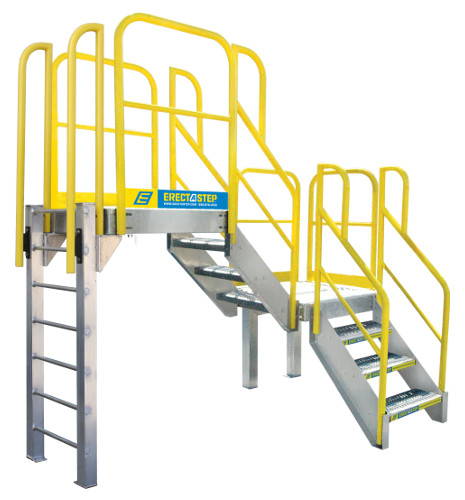 ErectAStep Access Platforms allows specific access to parts such as valves or filters which require repeated access.
Site Visit and Planning Assistance
As an ErectAStep distributor, Unistrut Midwest offers site visits to assist in determining your crossover or platform requirements. Unistrut will provide you with detailed configuration drawings which will let you know exact clearances and locations of supports. We also can provide installation services on all ErectAStep projects. Contact us today to discuss your ErectAStep needs.
Learn More About Our ErectAStep Modular Crossovers and Access Platforms
There are many more configurations available, please see the project gallery below for more examples. If you need to discuss your potential project, contact Unistrut Midwest today!