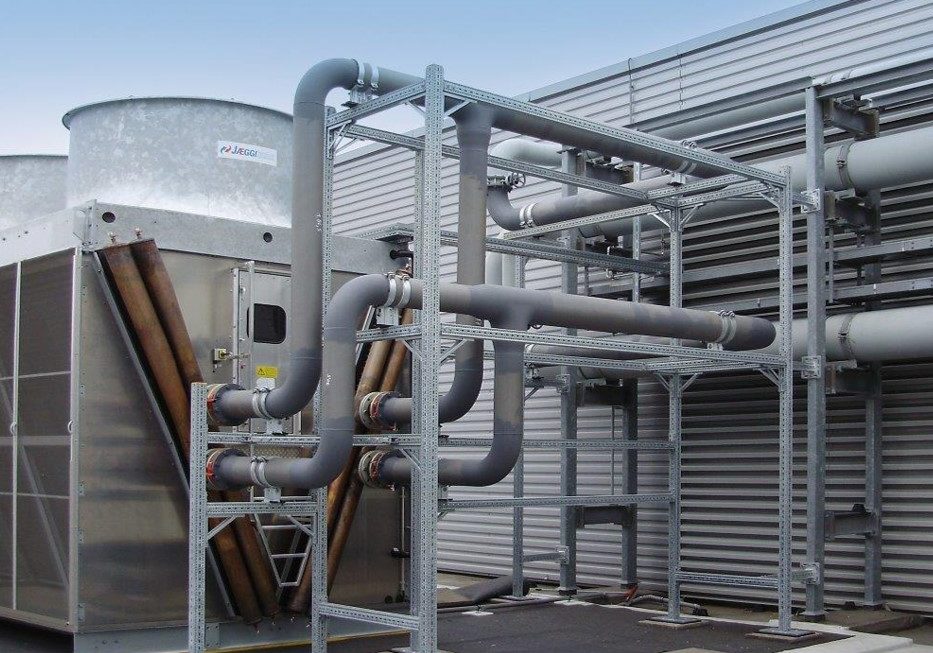 Sikla siFramo is the ideal modular steel solution over traditional structural steel supports for most pipe support applications. The Sikla siFramo modular steel system is the ideal compliment to Unistrut slotted channel framing for pipe support applications. Unistrut channel has limited capacity in larger pipe applications due to its inability to handle lateral forces caused by expansion and contraction of the pipe. Sikla siFramo utilizes a 3-1/8″ x 3-1/8″ Box Section as the base material which performs equally in all directions. Unistrut Midwest will help you size the correct combination of Sikla Framo products with Unistrut channel to make sure your project is supported properly while keeping costs down.
Sikla Framo 80 is a revolutionary secondary steel support system that allows a bolted system to replace traditional welded structures. Sikla uses (4) Basic Components to construct simple pipe supports.
1. Beam Sections. Sikla offers three basic profiles of the Sikla Beam Section. The Sikla F80 Beam Section is an 80MM x 80MM box section and is the most common Sikla beam section. The next size up would be the Sikla F100 Beam Section which is 100MMx100MM and used for larger spans or weight requirements. The Sikla F100/160 is the largest Sikla Beam Section with a 100MM x 160MM profile. The Sikla F100/160 is used primarily for vertical supports or horizontal supports on large bore piping.
2. Fittings. The Sikla F80 and F100 have a full range of connection fittings to allow for any three dimensional frame construction. The Sikla System is uniquely designed to allow bolted connections on all four sides of a post which was only accomplished with welded structures prior to the Framo 80 product.
3. Base Plates. The Sikla Framo 80 system has a full line of steel and recycled rubber base or foot plates to match your application. If connecting to steel beams or concrete, the WBD Post Bases come in a variety of sizes to match the application. If your supports are going on a rooftop, Sikla offers a recycled rubber base that can receive the F80 or F100 Beam Sections.
4. The Screw. The key to the entire Sikla Framo system is the screw. The FLS80 screw self forms its own threads in the Framo beam section that creates a tolerance free connection ideal for pipe supports.
Why would I choose Sikla over traditional welded supports?
The Sikla system utilizes a re-usable bolted connection that allows pipe supports to be constructed and adjusted with simple hand tools. In the event something changes in the field, a Sikla support could be adjusted with only a few bolts. Traditional steel supports would be scrapped or require extensive amount of labor to adjust the supports in the field.
The Framo 80 beam sections are light weight compared to HSS4 or W6 beams that it would replace.
Sikla Framo is Hot Dipped Galvanized as a standard. No extra trips to the galvanizer after fabrication reduces lead times.
Lower Costs overall on the fabricated support. When you consider the labor savings, transportation savings, and galvanizing savings, the Sikla Framo 80 can save 10-20% in comparison to structural steel pipe supports.

For more information on the Sikla Framo product, click here Sikla Framo 80.