Modular offices designed by Starrco provide pre-fabricated construction for your temporary office needs in addition to your permanent modular office buildings and in plant offices. When varying business demands require different space solutions, Starrco modular office systems offer a cost effective and quick answer.
No job is too small or too large. Starrco is a leader in the industry on exceeding engineering and construction standards for modular office buildings. Modular office systems designed by Starrco feature an extensive array of wall panels, stud systems, and modular building accessories.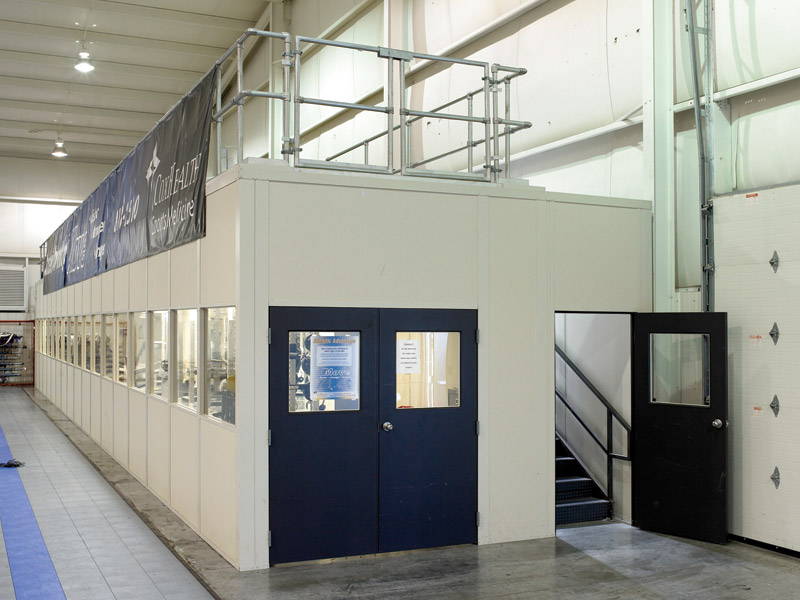 Modular Clean Rooms, Portable Clean Rooms, and Cleanroom Wall Systems
Modular clean rooms from Starrco lead the industry in cleanroom wall systems that are pre-engineered buildings, manufactured specifically for your application. Starrco modular portable clean rooms will provide you with the most cost-effective cleanroom environment construction. Starrco modular portable clean rooms can accommodate anything from a sound or equipment enclosure to pharmaceutical applications. Our interfacing modular wall systems, floors, ceilings and mechanical components will provide a contaminant-free environment, effectively allowing control of air flow, pressure, temperature, humidity and filtration. Since all material is pre-cut, mitered and completely finished, installation is completed quickly; with minimal mess, dust and disruption.
Portable shelters
Mobile offices
Guard shacks
Ticket booths
Clean rooms
Modular construction projects from single offices to two-story multiple office systems
Class 100 Modular Clean Rooms
With Starrco modular clean rooms, class 100 cleanrooms condition can easily be obtained. Modular clean room walls are flexible. Easily and conveniently expand, reconfigure or relocate modular clean room walls as your needs change while maintaining strict environmental conditions.
Starrco modular wall systems can be completely dismantled and relocated, therefore, you get the tax advantage of 7 year depreciation as opposed to 39 years required with conventional construction. Check with your financial advisor.

Advantages & Benefits of Modular Clean Room Construction:
Installation in a fraction of the time of permanent construction. Saves time, money and taxes.

All material is pre-cut, mitered and completely finished. No taping, sanding or painting.

Load bearing capabilities, including 40′ clear spans.

Class 100 – 100,000.

Wall finishes include steel, aluminum, FRP, vinyl covered gypsum and hardboard.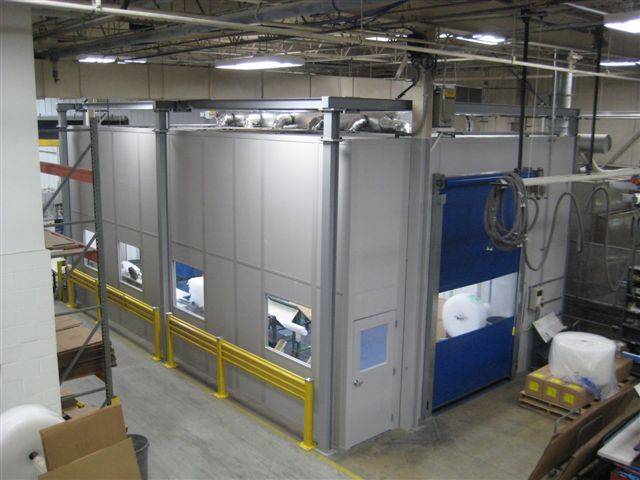 Modular Clean Room Applications
Sound Enclosures
Equipment Enclosures
Automotive Industry
Medical Device Assembly Areas
Laboratories
Optic Industry
Nano Technology
Wafer Fab Production
Composite Industry
Compounding Pharmacies
Animal Housing Labs
Aerospace Industry
CMM Rooms
Oil Mist Enclosures
Life Science Industry
Meteorology Labs
Environmental Rooms
Pharmaceutical Industry
Clean Room Quality Materials Engineered to Exacting Standards
Each modular clean room project begins with a careful needs assessment. The cleanroom wall system is then designed and engineered to specifically fit your application. All of our components are manufactured to our precise standards, labeled and delivered with a complete set of CAD drawings to make on-site installation quick and convenient. Our quality packaging minimizes shipping damage and the resulting delays. From initial design to finished installation, Starrco can ensure that your modular clean rooms project runs smoothly.
All studs in Starrco Portable Clean Rooms accommodate quick and easy vertical installation of electrical, data transmission and communication lines in raceways accessible from a removable cover plate.
Modular Building Photo Gallery