The perfect indoor environment in any commercial building should address a variety of needs. These needs include maintaining high-quality clean air, improving personal comfort control, attenuating noise, responding to organizational and technological changes quickly and easily, and supporting the overall aesthetic value of the building – all while being cost-effective in both construction and operation. With Tate's access floors and underfloor service distribution system, you have the ability to address all of the factors required to create the perfect indoor environment that will reflect the goals and image of your organization.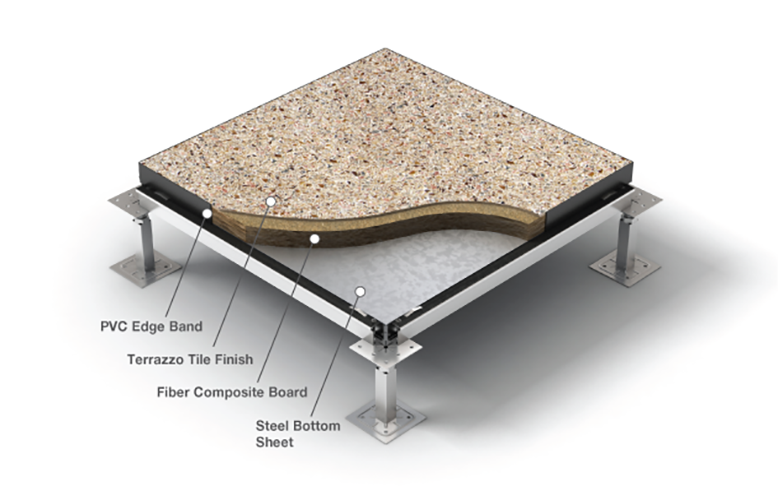 Tate Access Floor Signature Finishes
Freedom of design is important to any architect or design firm who is considering raised floor on their project. Access floors have emerged as a practical solution for numerous building types, not just the traditional office and data center settings with which they are most often associated. Tate has made a commitment to service the needs of both existing buildings and the new construction market by expanding their product offering to include new and exciting finishes.
---
Available Architectural Finishes for Access Floor Systems
Porcelain
Terrazzo
Hardwood
Soft Tile
Exposed Concrete
High Pressure Laminate (HPL)
Carpet
Custom
Advantages of Tate Access Floors for Commercial Buildings
Enhanced indoor environmental quality through superior IAQ, improved acoustics, and increased daylighting opportunities
Maximum occupant comfort control at design inception and throughout the life of the building using underfloor air with modular 'plug & play' VAV or passive diffusers
Energy efficiency through economizer operation, and less fan energy
Easily adapts to technological and organizational changes over the building's lifecycle at low cost
Point-of-use services wherever you need them with complete flexibility, accessibility, and unlimited capacity
Accelerated tax depreciation opportunities
Reduced Construction Costs
Reduced first cost and construction time due to significant reduction in HVAC ductwork and use of underfloor pre-fabricated 'plug & play' wire/cable services
Reduced Maintenance Costs
Reduced operating costs and lower facility and maintenance costs through accessible, flexible, and adaptable services
Unistrut/Tate offer Lunch and Learn Presentations on the benefits of raised access flooring, underfloor air, and other interesting topics.
Contact our sales team to arrange a presentation at your company. Each presentation includes free lunch and CEU credits!