Installing mechanical and electrical equipment to the roof of commercial buildings is a smart solution for maximizing indoor building space, but it comes with some specific challenges. The Unistrut Midwest team is familiar with the demands of mechanical rooftop support systems and is ready to partner with you to bring you the application you need.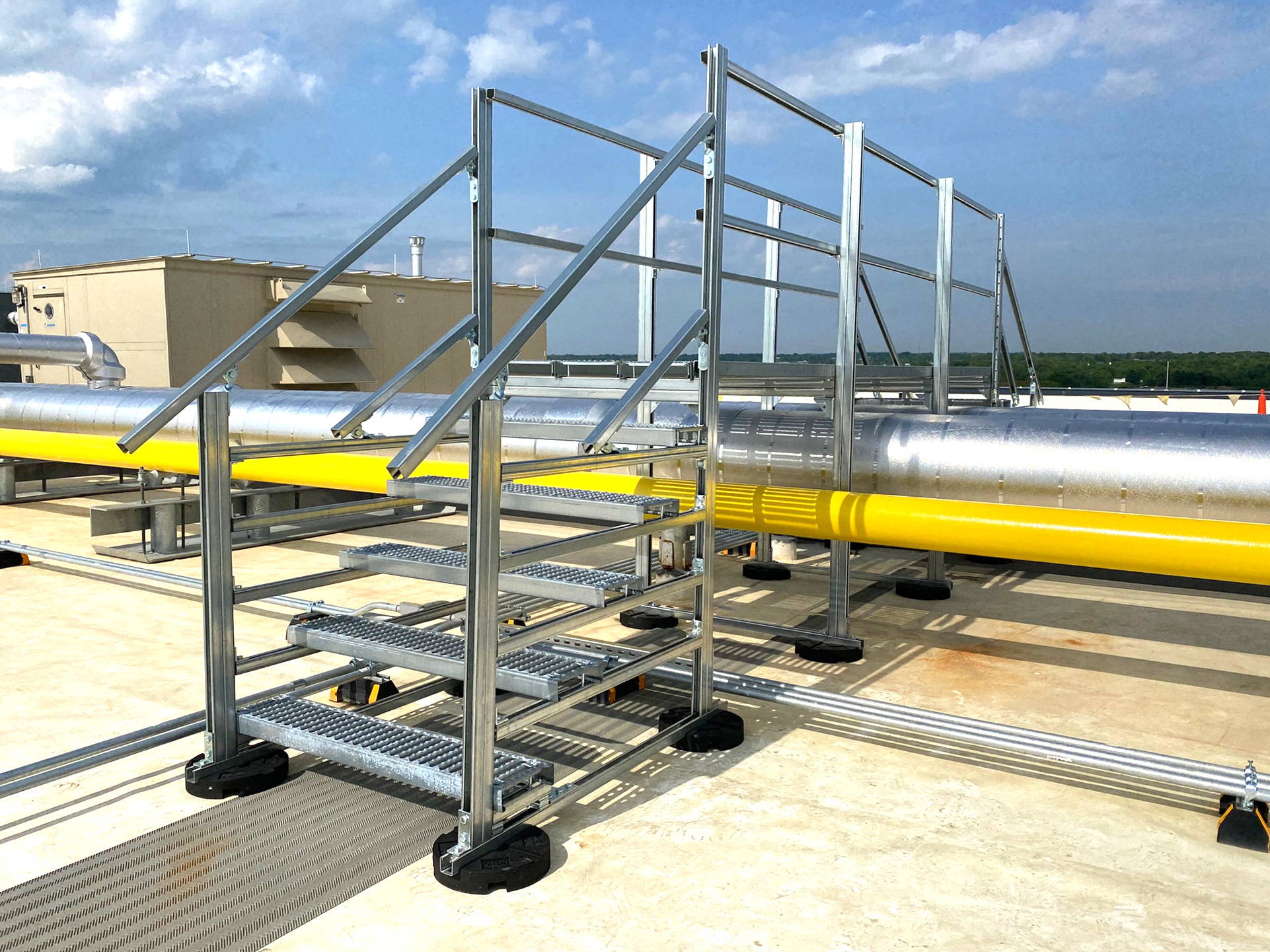 All mechanical rooftop supports should be constructed using materials that can sustain relevant environmental conditions, from harsh weather, heat, or cold, to extensive moisture or corrosive environments. Supports should also provide a stable base than can adequately distribute the equipment load on the roof membrane or structure.
Unistrut is an ideal product for rooftop piping, duct work, and mechanical equipment supports. With a wide range of rooftop products, Unistrut channel profiles, and weather-resistant finishes, Unistrut has the solution to any rooftop challenge. And with Unistrut's inherent ability to be assembled ahead of time off-site, prefabricated rooftop walkways can be delivered and easily installed on-site.
Unistrut Midwest Rooftop Support Applications
Rooftop Duct Supports
Rooftop Piping Supports
Rooftop Conduit/Gas Supports
Rooftop Cable Tray Supports
Rooftop Mechanical Equipment Supports
Rooftop Solar Supports
Rooftop Crossover Walkways
Rooftop Walkway Ramps
Rooftop Roofwalk Systems
Guardrail/Handrail
Fall Protection Systems
Prefabricated Rooftop Walkways
Unistrut Midwest Rooftop Support Product Lines
The Cush-A-Block system provides economical support for gas piping system, electrical conduit, HVAC equipment, and more. UV resistant and suitable for installation on most types of roofing material or other flat surfaces, Cush-A-Block can also be used as a curb (sleeper) replacement.
The advantages of Cush-A-Block:
Embedded fasteners for 75% faster strut attachment
Encapsulated fasteners for no rust on the roof
Built-in easy-grip handles
Molded-in Visibility Straps
Water flow-through channel to prevent ice dams and mold
100% Recycled Rubber
Qualifies for LEED Credits
Easy to Change Strut Without Moving or Lifting Block
Vibration Dampening
Compatible with most rooftop materials
Roofclamp™ Standing Seam Clamps
Roofclamp™ Standing Seam Roofclamps are a high-quality clamp that can be used to connect Unistrut to standing seam ribs up to 1.5″ wide. Utilizing a stainless steel, oval-tipped screw that does not pierce or penetrate the panel, using the aluminum Roofclamp™ will not void your manufacturer's warranty. Roofclamp™ products are fast and easy to install and will last the life of your roof.
Roofclamp™ RCT is the heavy duty version of the roofclamp standing seam blocks and is often used to connect Unistrut Roofwalk systems to a standing seam roof.
Can fit "T" seams up to 1.5″ wide
Interior dimensions measure 1″W x 1 3/8″H with .5″H x 1.5″W seam channel
Three 1 1/4" X 3/8" cupped nose set screws
Cupped nose set screws form button lock
One 3/8" threaded mounting hole on top
MUST NOT BE USED FOR FALL PREVENTION
The new Unipier Rooftop Support System offers a full line of supports for conduit, gas, and mechanical piping, HVAC Ducts, equipment supports, walkways and more.
Unistrut Midwest offers the following Unipier Rooftop products and solutions:
Duct and Cable Tray Supports
Water and Steam Line Supports
Conduit Supports
RSS4 Sleeper Supports
Unipier Walkways and Roofwalks
Custom Unipier Fabrication
Mechanical Rooftop Support Photo Gallery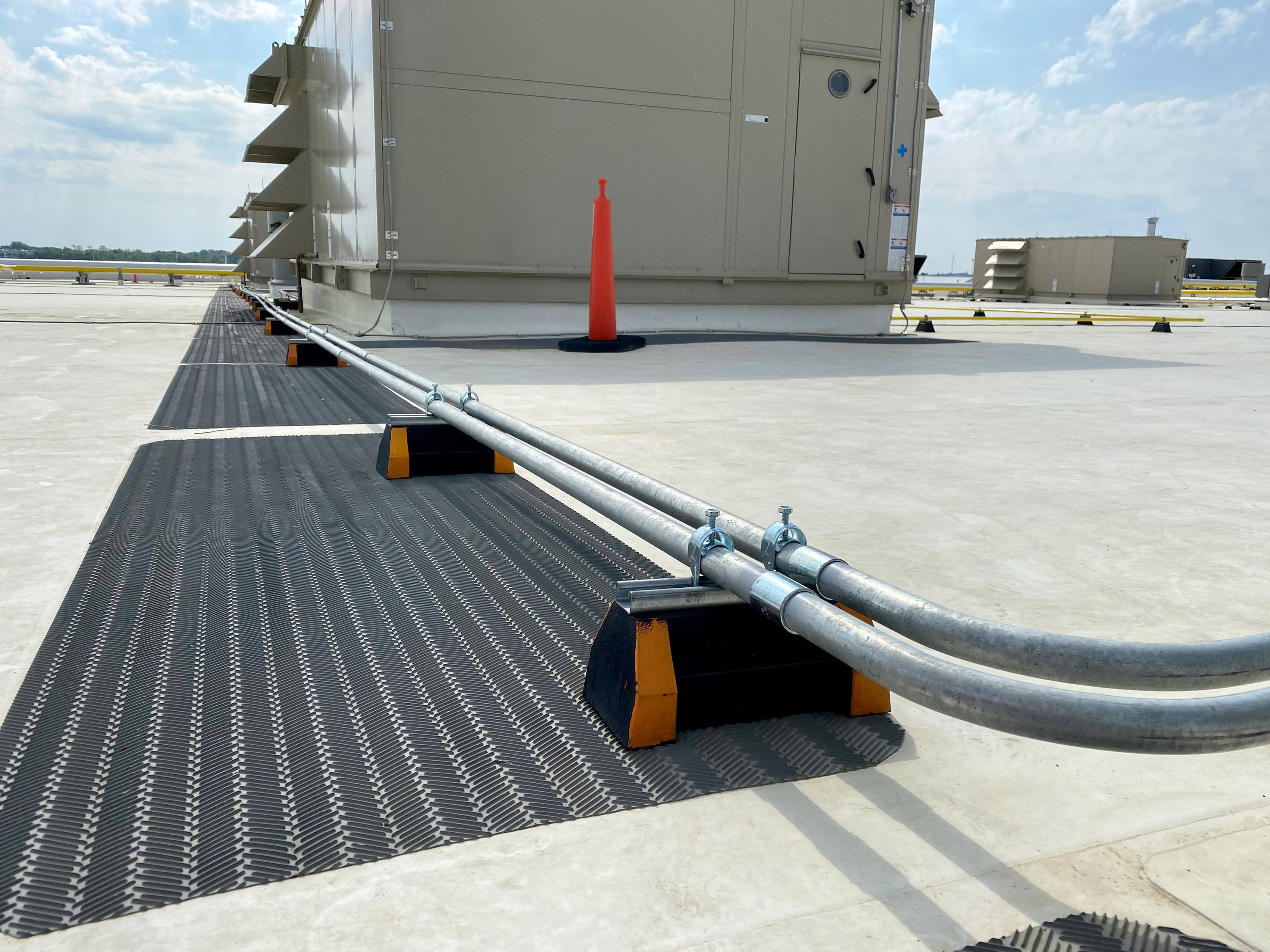 The Cush-A-Block system provides economical support for gas piping system, electrical conduit, HVAC equipment, and more.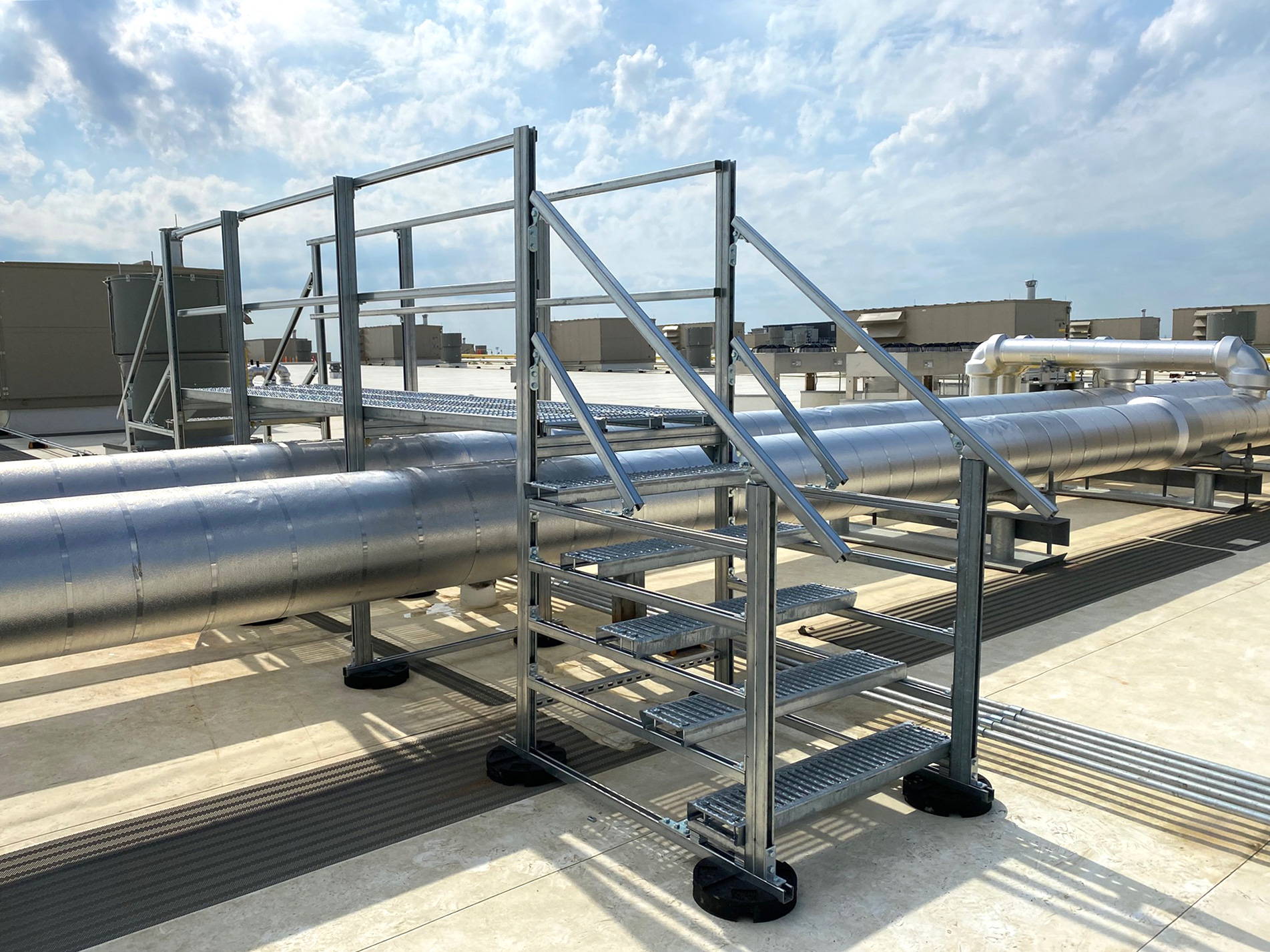 Unistrut Rooftop Crossover supported by Unipier rooftop supports.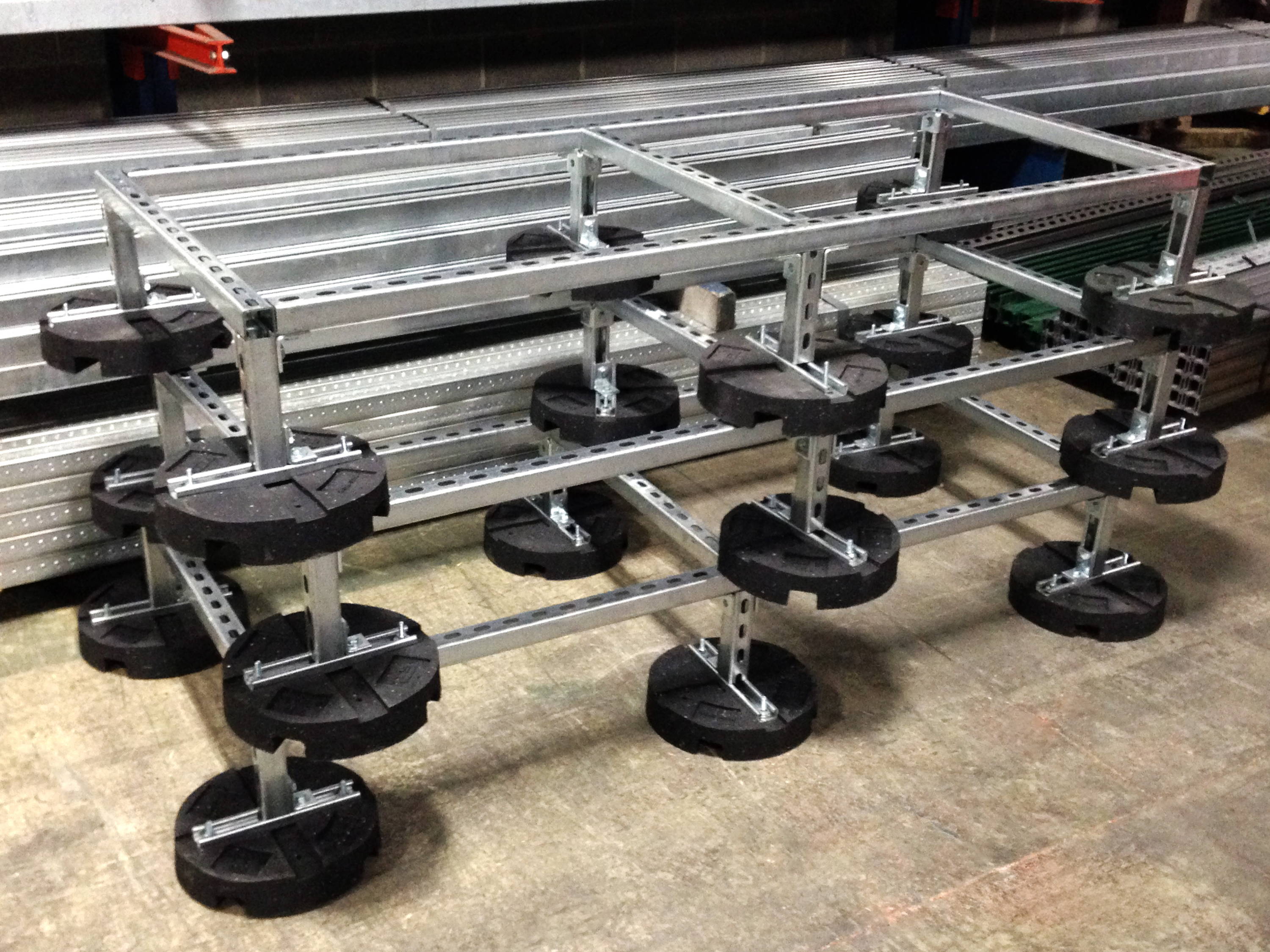 Prefabricated Unistrut rooftop pipe supports and Unipier bases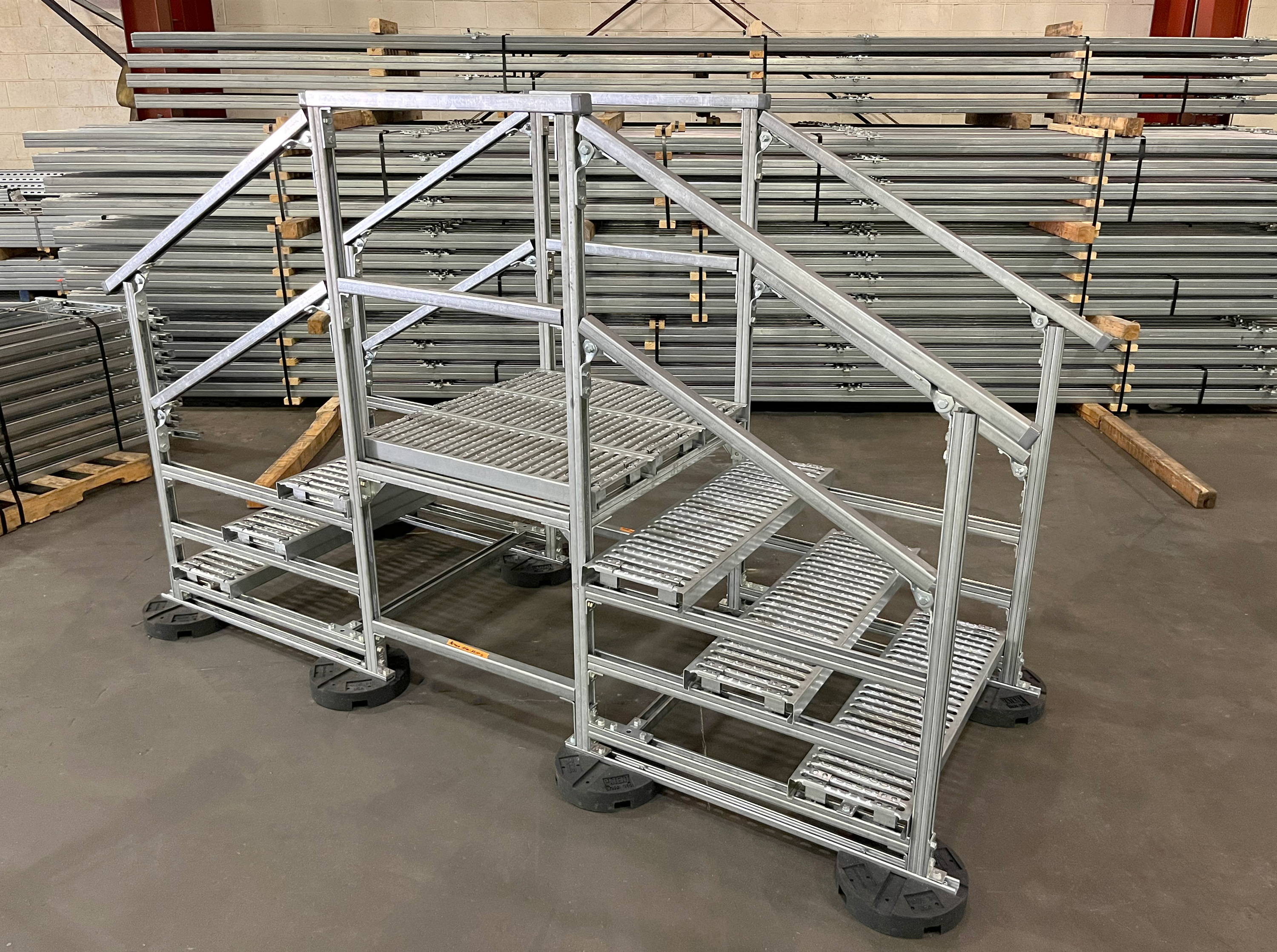 Prefabricated Unistrut rooftop crossovers are built and ready to be installed quickly on rooftops, without drilling or penetrating the rooftop membrane thanks to Unipier bases.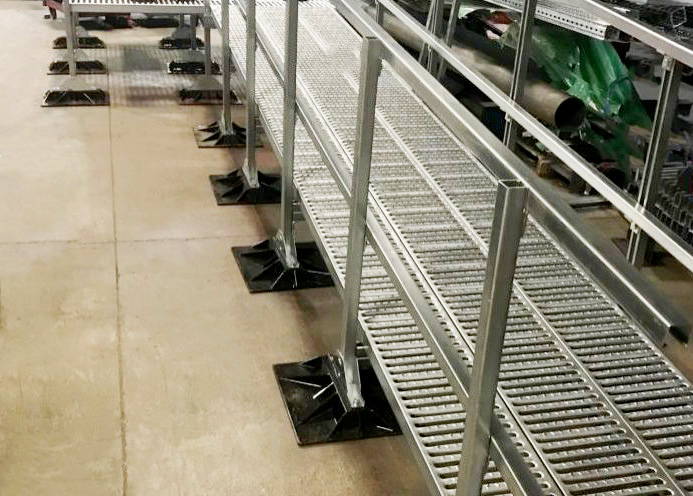 Unipier supports can be used to support Unistrut roofwalks and walkways.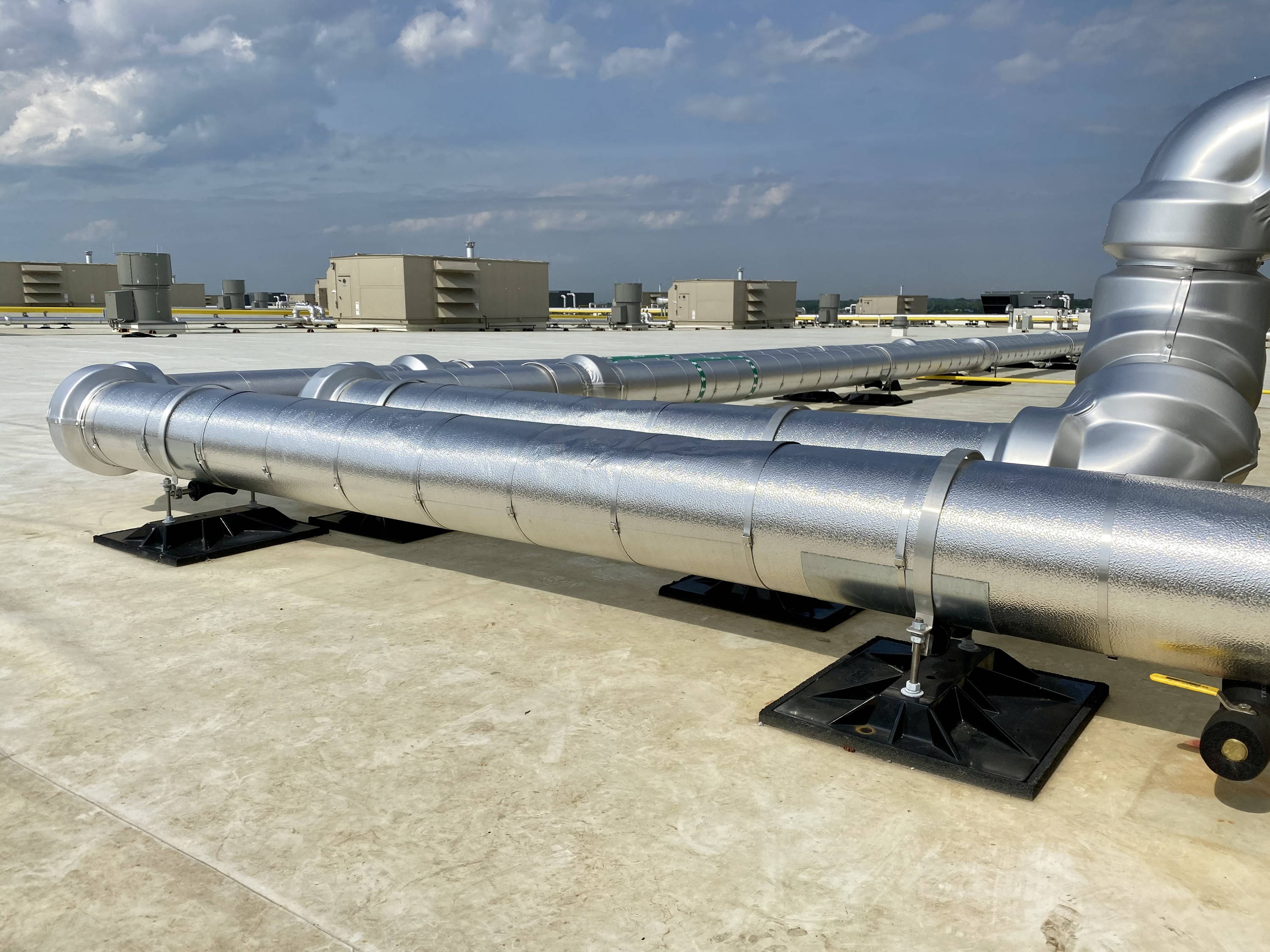 Unipier bases can be used to support conduit, water, and steam lines allowing them to move, expand and shrink from changing temperatures.